Floyd Mayweather Shows Off His Car Collection
Floyd Mayweather isn't coy about the fact that he has a lot of money. He carries around a million dollars in cash just because he likes to show it off. So it's no surprise that he posted a pictures of his eight million dollar car collection Welcome to my toy world!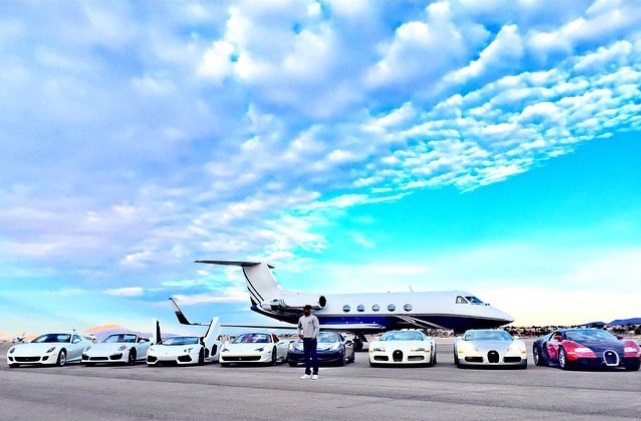 Who wants to come out & play?
Bugatti Veyron $1,600,000
Bugatti Veyron $1,600,000
Bugatti Gran Sport $3,000,000
Ferrari 458 Spider $360,000
Ferrari 458 Spider $360,000
Lamborghini Aventador $390,000
Porsche 911 Turbo S $205,000
Ferrari 599 GTB Fiorano $350,000
Private Jet #AirMayweather
Nobody is going to accuse Mayweather of being creative, he owns eight cars (actually a lot more, including a G-Class and a Rolls Royce Wraith) and two of them are duplicates. Then again, what do you expect from someone who can't read?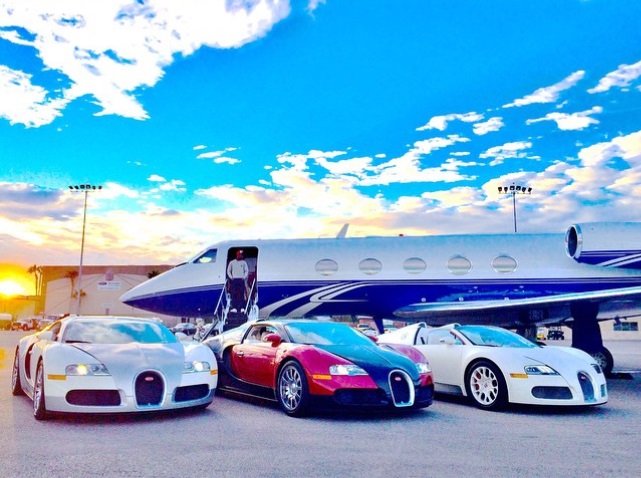 $6,200,000 spent for just 3 cars that don't depreciate, only appreciate
1. Bugatti Grand Sport Chassis 088 Matte White 1 of 1 in the USA. $3,000,000
2. Bugatti Veyron Chassis 116 White Over Soft Silver USA. $1,600,000
3. Bugatti Veyron Chassis 101 Black Metallic/Red Metallic USA $1,600,000
Mayweather's right, Veyrons are selling for just about the original asking price, and even if he's wrong, he has plenty of money and he'll still have three awesome cars.
Source: Floyd Mayweather's Instagram