Ford Using Recycled Denim in New Focus
If you plan on buying the new 2012 Ford Focus next year when it goes on sale, you'll receive two pairs of jeans with your purchase. Ford is using cotton from recycled denim in things like carpet backing and sound-absorption materials for the interior of the new Focus. The automaker says the amount of post-consumer cotton from blue jeans used in each Focus equals about two pairs of average-sized American jeans.
"Ford is continually looking for greener alternatives," said Carrie Majeske, product sustainability manager. "One of our key goals is to use more recycled or renewable materials without compromising performance or durability. Recycled content is a way to divert waste from landfills and reduce the impact of mining virgin material."
Ford has used soy foam seat cushions, recycled resins for underbody systems, recycled yarns on seat covers and natural-fiber plastic for interior components as part of its "reduce, reuse and recycle" strategy over the past few years.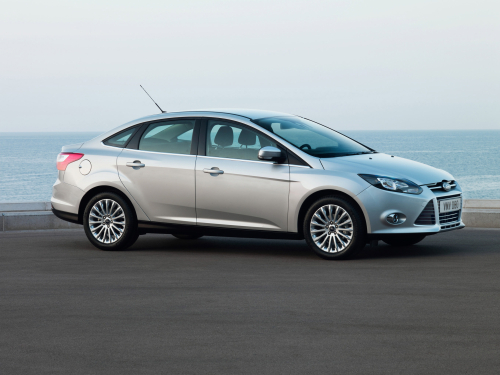 "The good news is these jeans didn't end up in a landfill, nor did we use the water, fertilizer and land to grow virgin cotton," Majeske said. "It's an alternative that our customers can appreciate, it's cost effective, and it's better for our planet. The use of recycled clothing is one step, but what else are people discarding that could be used in our vehicles? Ford is determined to find out."
The 2012 Ford Focus (pictured) will go on sale in early 2011. Current 2011 Focus sedans can be purchased with 0 percent auto loan financing for up to 60 months or $3,500 in cash back rebates. The 2010 model-year Focus sedan and coupe also have 0 percent car loans for up to 60 months right now.
Image courtesy Ford Motor Company.