Very Few Shoppers Actually Interested in Buying Electric Cars
Although automakers are heavily marketing their new electric vehicles, most consumers aren't interested in buying one. According to a recent survey by Kelley Blue Book, only 7 percent of shoppers said they are likely to buy or lease an electric vehicle for their next new vehicle purchase.
More than 80 percent of survey respondents said they were concerned about electric vehicles' range on a single charge and the availability of charging stations.
Kelley Blue Book found that 91 percent of car shoppers think electric vehicles are expensive and 43 percent think electric vehicles won't retain their value as well as regular gas vehicles.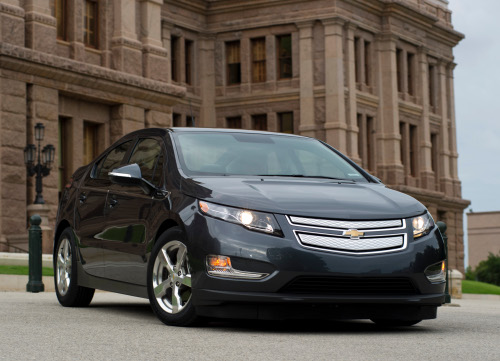 Survey respondents were shown pictures of electric vehicles that are currently or soon-to-be available for purchase/lease in the U.S. Forty-four percent of respondents said they would consider purchasing or definitely purchase the Chevrolet Volt (pictured above), while 43 percent said the same about the Toyota Prius plug-in hybrid. The Ford Escape plug-in hybrid was third at 42 percent, the Ford Focus electric was fourth at 39 percent and the Nissan LEAF was fifth at 34 percent.
If you're one of the 7 percent of people who want to buy an electric vehicle when a couple of them become available next month, both Chevrolet and Nissan are offering auto lease incentives for their Volt and LEAF. The Chevrolet Volt can be leased for $350 a month for 36 months with $2,500 due at signing. The Nissan Leaf SV can be leased for three years at $349 a month with $1,999 at lease signing.
If you didn't reserve a LEAF yet, you'll have to wait until 2011. In September, Nissan reached its goal of 20,000 reservations for the LEAF three months ahead of schedule. No further reservations will be taken until next year. Another round of reservations will begin in 2011, after current reservations and orders have been processed.