Gary Coleman Hits a Fan With His Truck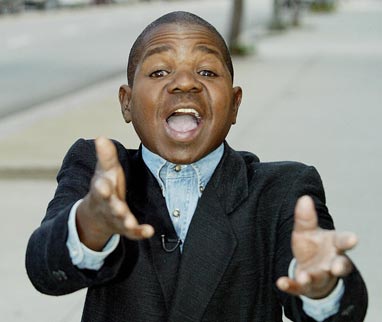 Late Saturday night, or technically early Sunday morning, actor Gary Coleman allegedly hit a man with his truck outside a Utah bowling alley.
E! News reports
that Coleman's bodyguard/friend told local reporters that right around closing time, Colt Rushton, 24, asked to take a photo of Coleman, 40, and his wife, Shannon Price-Coleman, who were finishing up a game. When Gary said no, Rushton got aggressive and started harassing the couple.
Rushton supposedly then followed the couple out to the parking lot, a fight ensued, then, according to the bodyguard, Rushton was hit by the Coleman's pickup truck when he ran around it as Coleman was backing out. Coleman then hit another car.
Rushton claims he was just trying to get his cell phone back from Shannon, who had apparently snatched it away. That's when Coleman put his truck in gear and knocked him to the ground. He also said Gary threw several punches at him before getting behind the wheel.
Rushton was treated and released from a local hospital. Police are investigating the incident and say alcohol may be a factor.
There's been no word yet as to exactly what truck Coleman was driving. We at AutoLoanDaily would like to know!