Get Stuck Even Farther Into the Wilderness! 2014 Jeep Grand Cherokee Diesel Will Get 30-MPG, Have a 730-Mile Range
Jeep revealed the 2014 Grand Cherokee at the Detroit Auto Show and in addition to a mild exterior refresh, the Grand Cherokee will offer a diesel engine for the first time ever in America. Along with the new diesel engine, all Grand Cherokees will get an eight-speed transmission that will help fuel economy and acceleration.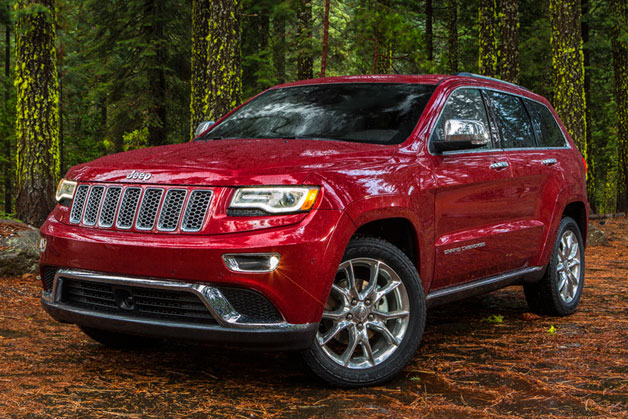 The diesel Grand Cherokee will use a 3.0-liter V6 turbo diesel engine with 240-horsepower and 420 lb-ft of torque. That's more torque than the top-of-the line Ram 1500's 5.7-liter Hemi V8 gas engine makes (although the Hemi makes a much more impressive 395-hp). Jeep says that the turbodiesel Grand Cherokee will get 21-mpg city and 30-mpg highway, which is better than most of the smaller Compass models get (the FWD Compass with the 2.0-liter engine gets 23-city and 30-highway MPG).
The eight-speed transmission will find its way into all Grand Cherokee models, from the base 3.6-liter V6 to the fire-breathing 6.4-liter V8 in the SRT8. The eight-speed transmission will work alongside the Grand Cherokee's Eco Mode to help the 5.7-liter Hemi models get 15-MPG city and 21-MPG highway with two-wheel drive and 14-city, 21-highway with four-wheel drive, according to Autoblog. The Eco Mode controls ride height, shift points and cylinder deactivation and can be turned off manually for times when you need all the power you can get out of your Grand Cherokee like towing, offroading or when that smug looking jerk in the Ecoboost Explorer in the next lane makes eye contact and you need to smoke him.
Image via Autoblog.