Ken Block's Racing Fiestas Get New Blue Hoonigan Racing Theme
Ken Block's racing team has changed its name from Monster World Rally Team to Hoonigan Racing Division and with the name change comes a change in the look of Block's Ford Fiesta race cars. Gone is the black white and green livery we all grew to love in Block's Gymkhana videos, and in its place is a gray and light blue theme with sponsor logos built into the scheme.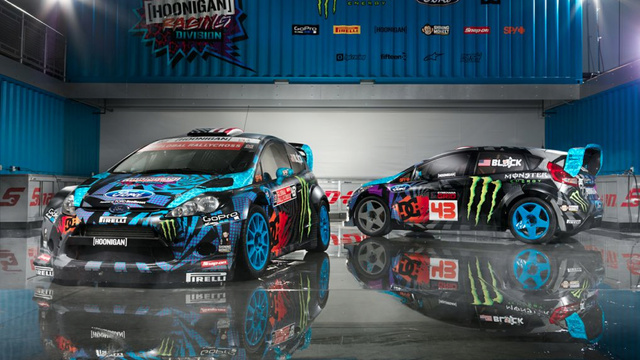 It's not the classic Gulf or Martini livery that come to mind when you think of racing livery, but this isn't the 70's, and times change. If you were thinking that the new racing livery for the Fiestas looks like I love the 80's vomited on a car, first of all you're too old and second of all you're not too far off.
"I'm stoked on how this livery and overall team aesthetic has turned out this year." Block said "With the name change to Hoonigan Racing Division, we wanted to take the look in a slightly different direction, one that has been inspired by my love of 80s and early 90s skateboarding graphics, as well as Miami Vice-era offshore powerboats and a dash of hair metal and old school hip hop mixed in for good measure."
There you have it. 80's skateboarding, Miami Vice, hair metal and golden age hip hop, four seemingly discordant themes that come together to form the look of the drift and rally cars.
Image via Jalopnik.