A Gulfstream for the Road – 577-HP 2014 Mercedes-Benz S63 AMG Will go 0-60 in 3.9 Seconds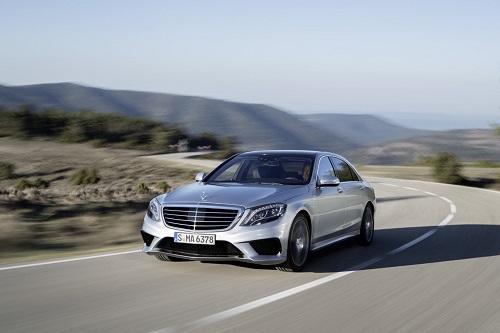 The 2014 Mercedes-Benz S63 AMG 4Matic has been revealed and the new V8 S-Class AMG is basically a Gulfstream Jet for the road, with luxury and performance that can match anything out there. Lower, more aggressive looking, faster and lighter than the standard S-Class, the S63 AMG subtly lets the world know that, while you do drive a grandpa-mobile, you're not going to be clogging the left lane.
The S63 AMG is the top of the S-Class' V8 lineup, eclipsed in power and price by only the V12-powered S600 and S65 AMG. The 2014 S63 AMG has 577-horsepower and other of performance upgrades that give the car a 3.9-second 0-60 time and an electronically limited 186-mile per hour top speed. The S63 AMG is also the first S-Class AMG to use Mercedes-Benz' 4Matic all-wheel drive system to aid in performance and handling.
The heart of the 2014 S63 AMG is its 5.5-liter twin turbo V8 engine that makes 577-horsepower and 664 lb-ft of torque, 41 horsepower and 74 lb-ft of torque more than the 2013 S63 AMG. In addition to the extra power and the all-wheel drive system, the 2014 S63 AMG is 220-lbs lighter than the 2013 model. That weight savings comes from using aluminum for the body panels, roof and front end, lighter wheels, a lithium-ion battery and lighter brakes.
The 4Matic AWD system in the S63 AMG is largely responsible for its sub four-second 0-60 time, and will direct 67-percent of the car's power to the rear wheels in normal driving and shifting the power as needed. The all-wheel drive system will use what Mercedes calls Curve Dynamic assist system to brake the inside rear wheel during hard turns to aid cornering.
Image via Autoblog.