Hold On To Your Hats – 2014 VW Golf R Cabriolet Is a 265-HP AWD Convertible
Volkswagen has revealed the 2014 VW Golf R Cabriolet, a new convertible version of the hottest hatch VW sells. The 2013 Golf R Cabrolet will have a 265-hp 2.0-liter turbocharged engine, all-wheel drive, and an automatic convertible top. Read: all you could ask for in a small car.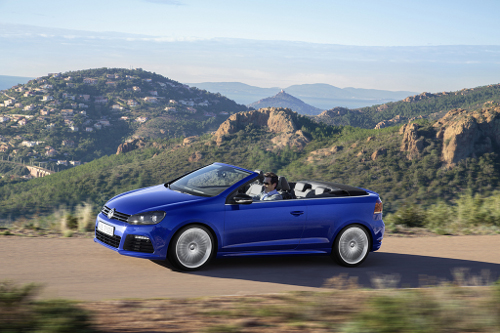 The 2014 Golf R Cabriolet's 2.0-liter TSI engine will propel the car 0-62-mph in 6.4 seconds, which isn't world beating but also isn't terrible for a convertible. The car will be electronically limited to 155-mph, but as The Truth About Cars points out, ECU chips will be available soon after launch to get rid of that pesky nanny system. The chips will be worth a lot more than just helping you to a higher top speed, they will also make the car accelerate quite a bit quicker. APR is claiming gains of 62 horsepower on the GTI MK6 TSI engines. Granted, that is on the much more conservatively tuned 200-hp engine, but it's still pretty amazing.
I have a particular love for this car. Growing up, my parents had a 1981 VW Rabbit convertible and I myself owned a 2004 Golf R32. One of my earliest car memories is my dad having to brave the highway to retrieve my Banky after it flew out of my hands on Route 295. The '81 Rabbit was also the most fun I've ever had driving, thanks to some stiffer springs and shocks my dad installed sometime in the 80s, along with other unknown modifications. So this should be the perfect car for me, except for one thing: the price. The Golf R Cabriolet will start at 43,325 Euros, or $58,200.
Image via The Truth About Cars.