Honda Offers 0.9 Percent Car Loan Rates on Most Vehicles in January
Honda has scaled back its lease incentives quite a bit in January, but is still offering low auto loan rates on most of its vehicles.
Last month, Honda offered sign and drive lease deals on eight models. In January, nine vehicles can be leased with $0 down payment. The Accord Coupe is $300 a month for 36 months. The first payment is waived under the sign and drive lease incentive. The Civic Sedan is $200 a month for 36 months under the same sign and drive lease deal. The Accord Crosstour, Accord Sedan, CR-V, Fit, Insight, Odyssey and Pilot are also available with the sign and drive lease deal.
These vehicles are also available with lower payments by putting a few thousand dollars down. For example, the Honda Accord Coupe will cost $199 a month with $3,499 down, while the Civic Sedan is $149 a month with $1,999 down.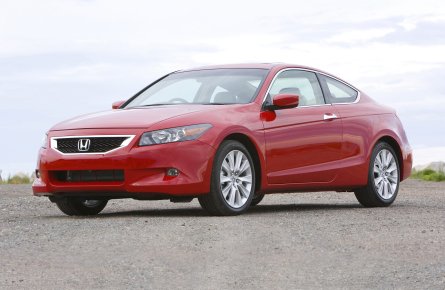 The 2011 Honda Accord Coupe can be leased for $300 a month with no down payment in January.
Honda is continuing its 0.9 or 1.9 percent car loan rates through January on most models. The Element and Ridgeline are available at 1.9 percent for 36 months. The 0.9 percent auto loan rate applies to the Accord Coupe, Accord Crosstour, Accord Sedan, Civic Coupe, Civic Hybrid, Civic Sedan, Civic Si Coupe, Civic Si Sedan, CR-V, Fit, Insight and Pilot. All models under the 0.9 percent rate deal are available up to 60 months, except the Pilot, which is available up to 36 months.
Higher interest rates are available for longer car loan lengths on some models. Also, some newer 2011 models have shorter loan lengths at the discounted interest rate.
Incentives listed are for the southeast region. They may differ depending on where you live. Check Honda's site to find the incentives in your area.