Hyundai Will Invade Your Living Room Sunday During Oscars
For the third year in a row, Hyundai has out-spent its competitors to become the exclusive automotive sponsor of the 83rd Academy Awards. The award show will air Sunday, Feb. 27 on ABC when Hyundai will air nine commercials, two of which will be during the pre-show (7 to 8:30 p.m. EST) and seven during the regular show (8:30 to 11:30).
"Hollywood's biggest night is a pillar of our 'Big Voices in Big Places' strategy, positioning Hyundai in the most-watched, high-profile advertising venues," said John Krafcik, president and CEO, Hyundai Motor America. "With the compelling TV ratings combined with the glamour of the event and its attendees, it's an ideal venue to show off the stars of our vehicle lineup."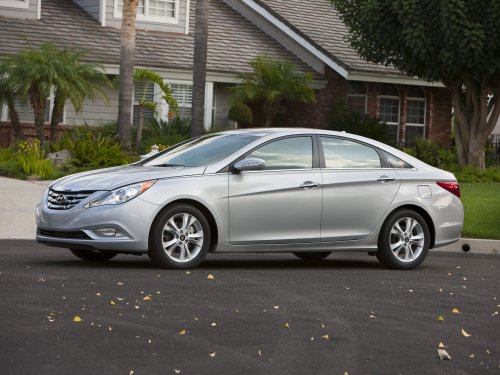 The 2011 Hyundai Sonata will be featured in two commercials during Sunday's Oscars.
Hyundai's two pre-show commercials include "Good Things Come in Threes", featuring Sonata's three powertrains, and "Comfy Home", featuring the Equus luxury sedan. The seven in-show commercials include "Family", featuring Sonata; "Anachronistic City", featuring Sonata Hybrid; "Drawing Board", "Childhood" and "Deprogramming", all featuring Elantra; "Greatest Luxury", featuring Genesis and "iPad", featuring the free iPad that comes with the luxury Equus as the owner's manual.
Jason Bateman is the voice for four of the nine commercials. All nine of Hyundai's commercials that will air during Sunday's Academy Awards are available to view at Hyundai's media site here.
Hyundai purchased ad spots for three commercials during the Super Bowl and two during the AFC Championship game. These commercials are not cheap, and Hyundai is definitely spending a lot of money to convince car shoppers to buy its vehicles.
The automaker is offering February car shoppers lease deals, low auto loan rates and cash incentives. Hyundai's auto loan rate deals range from 0 to 2.9 percent on most 2011 and 2010 vehicles this month. Cash back is available from $500 to $2,500 on select Hyundai models in February. Hyundai also has nine different lease deals this month. Most of Hyundai's leases are 36 months long, require a couple thousand dollars at signing and have monthly payments ranging from $169 to $739.