Hyundai Genesis Beats Luxury Competitors to Take Top Ranking in Consumer Reports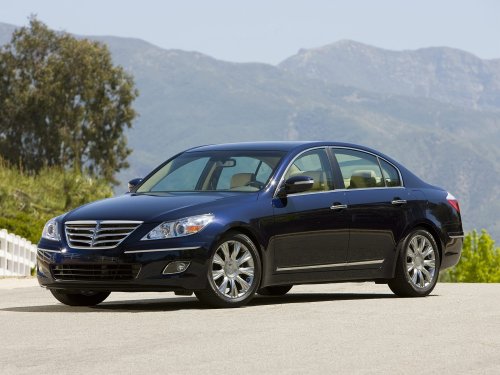 Hyundai's new luxury sedan, the Genesis, took top honors with Consumer Reports in its "upscale sedan" category. The Genesis, which achieved an "excellent" overall road test score, outranked 12 vehicles from Lexus, Acura, Lincoln and other brands.
"The Hyundai Genesis rivals high-end luxury sedans but costs considerably less," said David Champion, senior director of Consumer Reports' Auto Test Center. "Its luxurious and spacious interior and quietness far transcend its relatively modest price."
In a press release from Consumer Reports, the magazine says:
"Spacious and well appointed, the rear-wheel-drive Genesis offers good value and is a compelling alternative to luxury vehicles costing thousands more. This car's forte is swaddling passengers in silence. The engine sounds polished and road noise is strikingly absent. The interior rivals those of the very best luxury cars, with its optional stitched-leather dashboard facing and consistently high-quality materials. The only real drawback is its ride, which can be unsettled at times and doesn't live up to the standards set by other luxury cars. The Genesis 3.8 ($36,000 Manufacturer's Suggested Retail Price as tested) is powered by a 290-hp, 3.8-liter V6 that feels quick and smooth and delivers a decent 21 mpg in CR's own fuel-economy tests. The six-speed automatic transmission provides smooth, quick shifts. Braking is excellent."
Will Hyundai's Genesis luxury sedan get buyers to see Hyundai in a different light and associate the automaker with other luxury brands? If the Genesis keeps getting ratings like these, it just may pass up some of its competitors. The review and ratings will appear in Consumer Reports' February issue, which goes on sale Jan. 6.