Kelley Blue Book: Subaru, BMW Have Best Resale Value
Kelley Blue Book announced the 2011 model-year winners of its annual Best Resale Value Awards today, which recognize the vehicles that are predicted to be worth the most money five years from now.
Anyone who has bought a car before or is in the market for a car should consider a vehicle's resale value. The more money your vehicle is worth in the future, the more money you can earn by trading it in for a new car or by selling it privately. Cars are a depreciating asset, so the more value your vehicle holds, the better.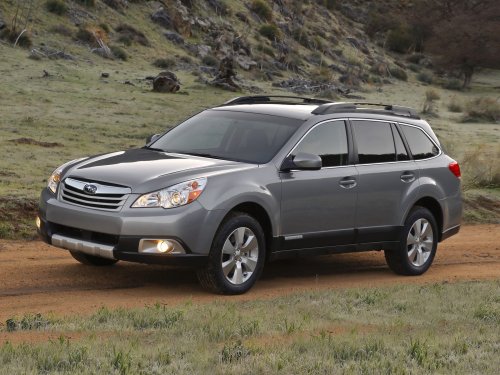 The 2011 Subaru Outback was named the best resale value wagon.
Subaru is the 2011 best resale value brand, while BMW is the best resale value luxury brand. Kelley Blue Book's top 10 2011 models with the best resale value are (in alphabetical order) the Audi A5, BMW X5, BMW X6, Honda CR-V, Jeep Wrangler, Lexus GX, Lexus RX, Subaru Outback, Toyota FJ Cruiser and Toyota Tacoma.
KBB says a 2011 model-year vehicle is expected to hold 34 percent of its original list price after five years. Kelley Blue Book looked at current vehicle data, market conditions for each vehicle, competition in each segment and expectations of the future economy to determine the winners.
"Vehicle depreciation is a new-car buyer's biggest expense, yet many shoppers don't realize that resale value information is available for free on Kelley Blue Book's kbb.com," said James Bell, executive market analyst for Kelley Blue Book's kbb.com. "Taking the time to research and choose vehicle makes, models and options wisely now can help new-car shoppers hold value down the road when they go to sell or trade-in the vehicle."
KBB also lists the 2011 vehicles with the best resale value by category:
Subcompact car –
Honda Fit
Compact utility vehicle – Honda CR-V
Compact car –
MINI Cooper
Mid-size utility vehicle – Toyota FJ Cruiser
Mid-size car –
Honda Accord
Full-size utility vehicle –
GMC Acadia
Full-size car –
Ford Taurus
Luxury utility vehicle – BMW X5
Near-luxury car –
Lexus IS
Hybrid/Alt. energy utility vehicle – BMW X5 XDrive35d
Luxury car – Audi A5
Mid-size pickup – Toyota Tacoma
Sports car –
Subaru Impreza WRX
Full-size pickup –
Ford F-Series Super Duty
High-performance car –
Ford Mustang GT
Hybrid/Alt. energy car –
Volkswagen Golf TDI
Wagon – Subaru Outback