Kevin Hart Busted for DUI, Adds Resisting Arrest Charge Protecting Watch
Kevin Hart was busted for DUI yesterday after reportedly swerving and nearly hitting a tanker truck, then failing field sobriety tests and resisting arrest. According to the impromptu video interview TMZ had with Hart as he left the police station, Hart's resisting arrest charge came about because he was being hand cuffed and was worried about his watch getting scratched, so he argued with the arresting officer and pulled his hand away for some extra time in order to remove his watch.
Kevin Hart has expensive taste in cars, so it's not surprising that he cares about his watch too. Hart has a Mercedes-Benz SLS AMG, a $200,000 sports car with a 583-horsepower 6.3-liter V8 engine and Mercedes' legendary gullwing doors. If anyone knows what watch Kevin Hart is wearing in the video or picture below, please let us know in the comments.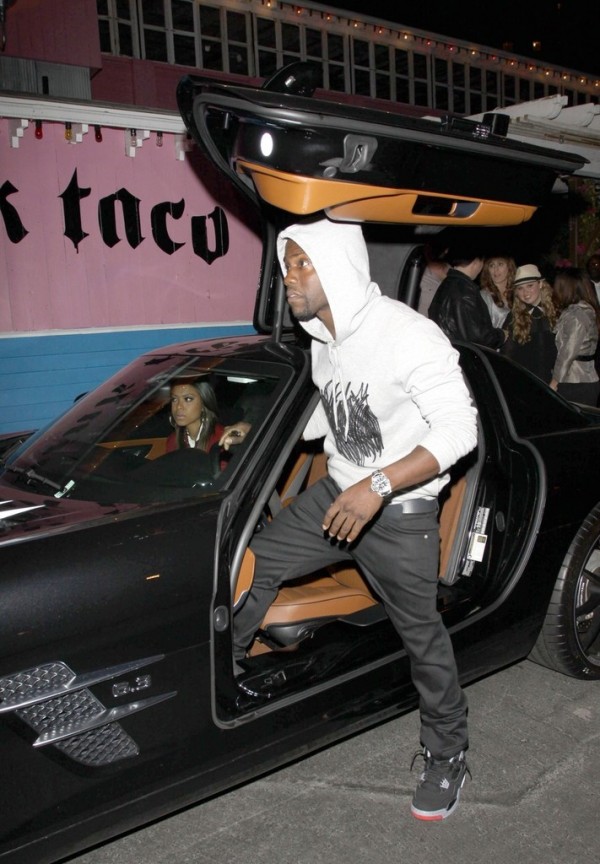 Kevin Hart was busted in a black Mercedes at 4:30 AM on April 14. According to TMZ, the California Highway Patrol pulled Kevin Hart over for "driving erratic" and "going 90-mph" and said that he "almost collided with a gas tanker truck."
Kevin Hart was pretty light hearted about his DUI arrest, especially for someone who was probably hung over with a camera shoved in their face as they left the jail. He said he'll use this as inspiration for jokes in his standup act.
Image via Celebrity Cars Blog.