King Zed – 2014 Camaro Z/28 Will Have Over 500-HP, Race Suspension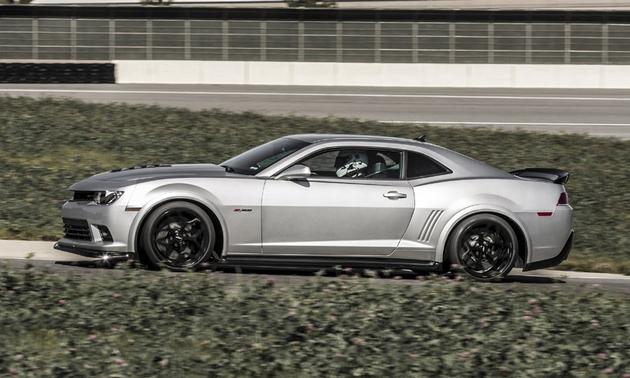 The 2014 Chevy Camaro Z/28 specs have finally been announced. The track-ready Camaro will use a 7.0- liter, 505-hp engine and will be 100 pounds lighter than the Camaro SS. Not just a 1/4-mile brawler, the Camaro SS will be able to pull 1.08g in corners thanks to a technologically advanced suspension.
The 2014 Camaro Z/28 will use the 7.0-liter LS7 V8 engine found in the C6 Corvette Z06 with 505-horsepower and 481 lb-ft of torque. With air conditioning and stereo optional, the Z/28 will also be about 100-lbs lighter and a Camaro SS and will weigh 3,837-lbs, though that weight may change before the Z/28 makes it to production.
The 2014 Z/28's suspension is the most exciting part of the car, and will use Dynamic Suspension Spool Valve (DSSV) dampers built by Multimatic. DSSV dampers are used in Formula One as well as many other racing series and use spool valves inside the damper to give more reliable and accurate valving, allowing Chevrolet suspension engineers to adjust compression and rebound independently and improve handling substantially. The Z/28 will also have stiffer springs (85% stiffer in front and 65% stiffer in the rear) and a 1.29-inch lower center of gravity than the SS. All together, the suspension on the 2014 Z/28 will be capable of 1.08g of cornering acceleration. Carbon ceramic brakes with six piston front calipers and four piston reat calipers handle stopping the Z/28.
A front splitter, hood vents, fender flares, rockers and a functional rear spoiler all work to add 440-lbs more downforce than the SS at 150-mph, keeping the Z/28 planted in the straightaways.
The Z/28 went to the Nurburgring recently and even though it rained, the Camaro set a 7-minute, 37.4-second lap, a faster time than the Lamborghini Murcielago's published dry time.
Source: Autoweek.