David Beckham's Blacked Out McLaren MP412-C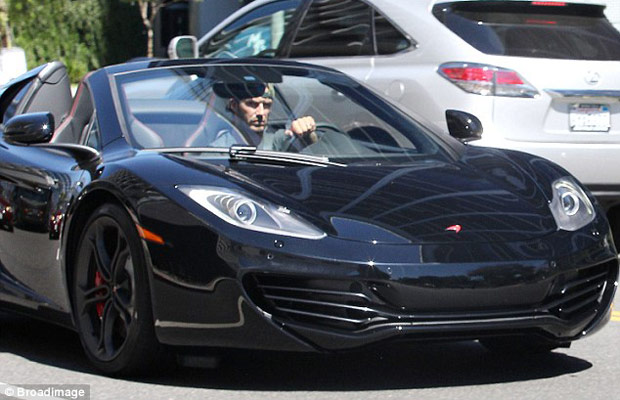 David Beckham definitely has a type when it comes to custom cars. While his wife was off designing a gorgeous Range Rover Evoque with rose gold accents, Beckham was driving around in a black on black McLaren MP4-12C. Beckham's murder out McLaren will match perfectly with his blacked out Porsche 911, Jeep Wrangler, Rolls-Royce Phantom, Audi S8 and Victoria Beckham's black on black Jaguar XJ.
David Beckham shares more in common with Dwayne Wade than just the fact that they've both risen to the highest echelons of their respective sports. Dwayne Wade also has a blacked out Jeep Wrangler Unlimited and a McLaren MP412-C, though Wade's McLaren is red.
The McLaren MP4-12C is a 200+ mph supercar built by the legendary performance car and race team at McLaren, which is famous for its F1 cars and working with Mercedes-Benz on supercars. With a 0-60 time of 3.1 seconds thanks to its 616-horsepower 3.8-liter twin-turbocharged V8 engine and a top speed of 207-mph, the McLaren should be enough car to entertain even somebody who's seen as much action as Beckham.
Image via Complex.