David Beckham Murdered Out His Porsche 911 & Jeep Wrangler
David Beckham may not be creative with his cars, like Kanye West and Justin Bieber are, but he knows what he likes and sticks to it. Maybe the big difference is the Kanye and Bieber are creative artists while Beckham dedicated his whole life to being great at soccer. The singers' creativity got them to the top fo their game while Beckham's single-mindedness got him to the top of his. Enough half-baked theories about people's automobile preferences, let's look at some pretty cars.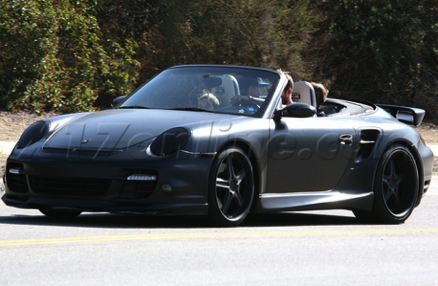 David Beckham's Porsche 911 Turbo convertible started out a basic glossy black color, and it looked great but there were probably three others at every Target parking lot in Hollywood so Beckham got sick of walking up to the wrong one and looking like a turkey while he sat hitting the unlock and yanking on the door handle. Easy solution: paint the whole car, deep dish rear wheels included, flat black.
Beckham also has a Jeep Wrangler Unlimited murdered out on with what look like they might be beadlock wheels. If so, Beckham's rocking some serious offroad wheels and I hope he drives the Jeep hard enough to justify them.
David Beckham murdered out Porsche image via X17.
David Beckham murdered out Jeep image via Celebrity Cars Blog.