Justin Bieber's White-On-White Ferrari 458 Italia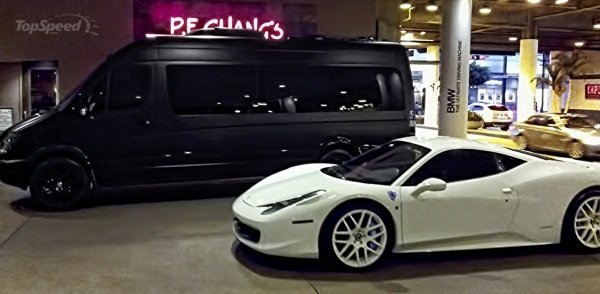 Justin Bieber was pulled over in his Ferrari 458 Italia for making an unsafe left turn, then ticketed for an expired registration, according to Top Speed. That's how you know Bieber isn't a real baller, even though he has the goofy clothes of one. If he were really a baller, every time the registration on his Ferrari expired he would just buy a new one. Bieber gets major points for having a white on white 458 Italia, which is one of the best paint/ wheel color combos out there and looks downright sexy on the Ferrari.
Bieber won an American Music Award last night, and in his acceptance speech he dedicated the AMA to his haters, who didn't think that a prepubescent pop singer had staying power in a fickle music industry.
"first of all I want to say this is for all the haters who thought that, you know, that I was maybe I was here for just one or two years, you know, but I feel like I'm going to be here for a very long time." After thanking haters he thanked his Mom, his mentor, his family and the fans.
It's not exactly a stretch to assume that when someone's first hit album debuts just before their voice changes as they go through puberty, they might not be in the limelight forever. But if you ever pointed that out, Bieber's AMA is for you. In Bieber's defense, he's 18 and everyone is a piece of crap when they're 18. It's a wonder most of us weren't killed for the stupid things we said at age 18. Given that he's achieved an astounding level of success and fame at this age and is constantly under scrutiny, it's a wonder that Bieber hasn't said much dumber things and is grounded enough to attempt humility. He could insult everyone watching and feign amazement every time he won something.
Image via Top Speed.