May New Car Sales Will Get Memorial Day Boost
It looks like car shoppers are waiting for the Memorial Day sales to buy a vehicle this month. May new car sales started out rocky, but the end of the month is expected to be propped up by Memorial Day sales, according to J.D. Power and Associates.
May new vehicle retail sales are expected to be 874,000 units, which represents a seasonally adjusted annualized rate of 9.2 million units. May new car sales are expected to be down from April's selling rate of 9.6 million units. But compared with May 2009, retail sales this month are projected to increase by 11 percent.
"Compared with April, incentives this month are flat at $2,800, which is contributing to the slower sales pace," said Jeff Schuster, executive director of global forecasting at J.D. Power and Associates. "However, with the unofficial start to summer approaching, consumers are more inclined to consider purchasing a new vehicle, and it's likely that Memorial Day sales incentives will generate an even stronger close for May."
J.D. Power and Associates' May 2010 numbers are forecasted based on the first 13 selling days of the month. J.D. Power is increasing its sales forecast slightly to 11.8 million units from 11.7 million units for total yearly sales and to 9.7 million units from 9.6 million units for yearly retail sales.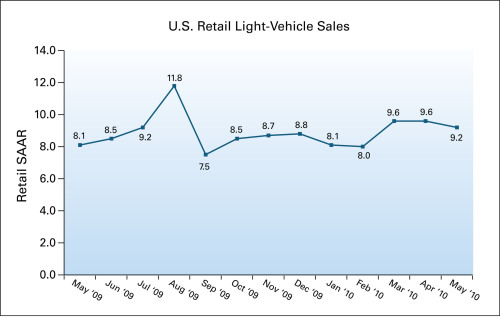 Chart via J.D. Power and Associates.