Mazda Offers Zero Percent Auto Loan Incentives With No Payments For 90 Days in July
Mazda has sweetened its July 0 percent auto loan incentives by letting buyers make no payments for 90 days. On top of that, Mazda is giving $500 in consumer cash. This three-part incentive is only good on the Mazda3 and Mazda6 and is good for a 0 percent car loan up to 60 months.
Mazda's other 0 percent auto loan incentives are good on the Mazda5, CX-7, CX- 9 and Tribute. The length of the 0 percent loan depends on the model, ranging from 36 to 60 months. The Mazda5's 0 percent car loan incentive also includes $500 in customer cash. The CX-9 is also part of the 0 percent financing and no payments for 90 days incentive.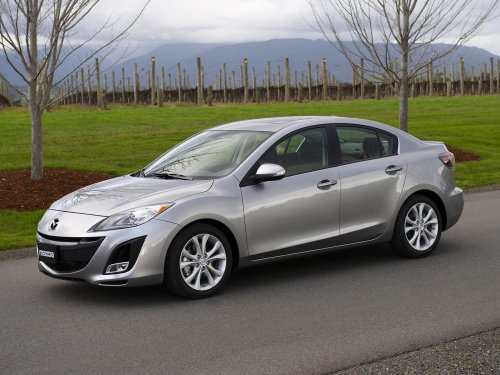 The popular Mazda3 can be purchased with a 0% auto loan for up to five years, which includes $500 cash and no payments for 90 days.
The 60-month 0 percent Mazda auto loan incentives will not only save you money on the financing, but because it stretches your payments out over a longer period of time, your monthly payments will be lower, which can help if you're on a tighter budget. The Mazda3, Mazda6 and CX-9 are all included in the 60-month 0 percent incentive.
In June, Mazda offered auto leases with no money due at signing. Now that this incentive is over, July shoppers can lease any new Mazda for 36 months with anywhere from $1,803 to $3,444 due at signing. The monthly lease payment on the Mazda3 is $209 and the five-door version is $249. A Mazda5 can be leased for $299 a month, Mazda6 for $239, MX-5 Miata for $269 and RX-8 for $339 a month in July.
If you're in the market for an SUV, you can lease a Mazda CX-7 for $239 a month, a CX-9 for $349 and a Tribute for $329.
Mazda also has a $500 owner loyalty bonus toward 2010 Mazda3, Mazda6, CX-7 or CX-9 vehicles in July.
Incentives listed are for the southeast region. They may differ depending on where you live. Check Mazda's site to find the incentives in your area.