Zero Percent Auto Loans Available in July on Almost Every Nissan and Infiniti Vehicle
Nissan's July incentives feature 0 percent car loan rates on almost every model. The Nissan Versa sedan, Versa hatchback, Cube, Sentra, Altima, Altima coupe, Maxima, Rogue, Murano, Xterra, Pathfinder, Frontier and Titan can all be purchased with 0 percent auto loan financing in July. The length of the car loan depends on the model and ranges from 36 to 60 months.
Remember that you generally need a credit score of about 700 or higher to qualify for the 0 percent interest rate incentives. If you don't qualify for 0 percent financing, you might qualify for a competitive rate that can still save you money over the life of the auto loan.
Nissan shoppers also have the choice of cash back incentives ranging from $500 to $5,000 on select models instead of the 0 percent auto loan incentives in July.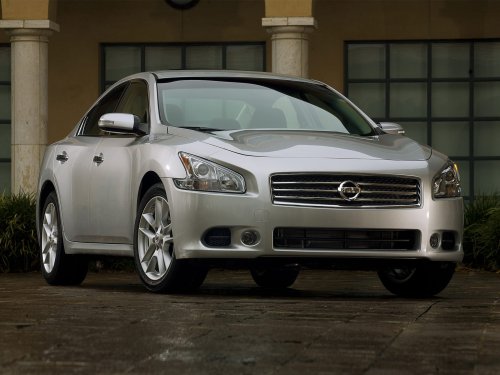 The Nissan Maxima, which starts at $30,690, has 0% financing for 60 months in July, $1,750 cash back or a $289 monthly lease payment.
Nissan is also offering lease deals on 11 different models in July, with monthly payments ranging from $149 to $499. You'll need anywhere from $1,999 to $2,999 at lease signing and the leases are 39 months long.
Infiniti is also pushing 0 percent auto loan incentives this month. In July, the Infiniti G37 sedan, G37 coupe, G37 convertible, EX35, FX35 and FX50 all have 0 percent car loan incentives for up to 36 months. For up to 60 months, the auto loan rates increase to 0.9, 1.9 or 2.9 percent, depending on the Infiniti model.
It's pretty uncommon for a luxury car brand to offer 0 percent auto loan incentives, so if your credit score qualifies, you'll save a good deal of money. This is also only if you can afford the higher monthly payments, since the car loan length is shorter for the 0 percent rate.
If you prefer leasing, Infiniti has an auto lease incentive on every model in July. The Infiniti EX35 smaller SUV, which starts at $33,800, can be leased for $399 a month for 39 months with $3,999 due at signing. The Infiniti G37 Coupe is $339 a month for 39 months with $3,499 due at lease signing. The popular G37 Sedan is only $319 a month for a 39-month lease with $3,499 due at signing. The FX50 SUV, which starts at $59,000, can be leased for $709 a month for 39 months in July with $4,999 due at lease signing.
Incentives listed are for the southeast region. They may differ depending on where you live. Check Nissan and Infiniti's sites to find the incentives in your area.