Mommy-Mobile Gets Manly – 2015 Chevy Suburban Gets an Aggressive Makeover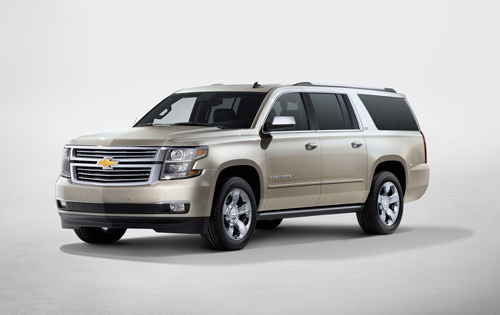 The Chevy Suburban and Chevy Tahoe have received a full makeover, bringing the SUVs in line with the newest generation of Chevy Silverado. The 2015 Chevy Suburban and Tahoe will be modern, sporty looking SUVs closer to the Ford Flex's boxy style than the current generation's more rounded look.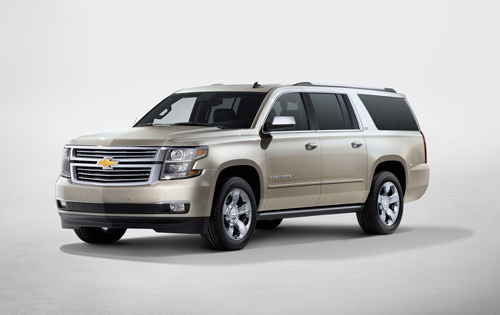 The Tahoe and Suburban SUVs have always been based on the Silverado (and the K-Series trucks that preceded it), and the 2015 Tahoe and 2015 Suburban will be the first to get a unique front end. The Chevy Suburban and Tahoe are identical except for the Suburban's extended length, which means more passenger and cargo room.
The 2015 Chevy Suburban and 2015 Chevy Tahoe will be powered by GM's 355-horsepower 5.3-liter V8 engine with cylinder deactivation connected to a six-speed automatic transmission. The full-sized SUVs will be rated to tow between 8,000 and 8,500-lbs, with the heaviest four-wheel drive Suburban getting the lowest rating and the lightest two-wheel drive Tahoe the highest.
The newest generation of America's longest running nameplate, the Suburban also features updates to make it more useable. The 2015 Suburban will have a new push-button fold flat second and third row seats. The flipside to the fold flat seating is a higher floor which results in a lower maximum cargo height, though there is extra under floor seating.
Images via Kicking Tires.