What Your Wife Wants For Christmas – Special Edition Neiman Marcus Chevrolet Camaro Convertible
If you can't figure out what to get your wife for the holidays, Neiman Marcus and Chevrolet have you covered. For a mere $75,000, she can cruise around town in a special edition 2011 Chevrolet Camaro SS Convertible in a Deep Bordeaux color.
A fully-loaded convertible that's the color of wine? Sign me up. Only 100 will be built and can be ordered through the annual Neiman Marcus Christmas Book.
The Neiman Marcus Edition Camaro comes in an exclusive Deep Bordeaux exterior color, accented by subtle, "ghosted" rally stripes, GM said in a statement.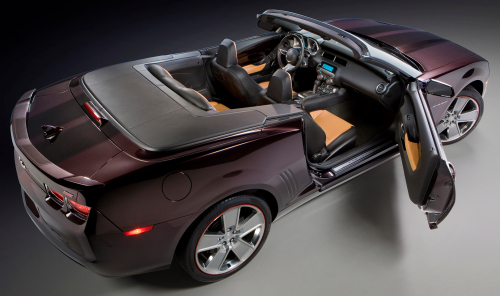 "The tri-coat, metallic paint shifts in response to natural light," said Tom Peters, Chevrolet design director. "In low light, it appears almost black with a touch of deep violet. In sunlight, a little bit of red and burgundy appear."
The convertible's fabric top is color-matched to the car's paint color. The car also has a windshield frame finished in matte silver, both exclusive to the Neiman Marcus edition.
For $75,000, you also get interior features like leather (amber-colored leather seating surfaces offset by black leather side panels and red stitching) and red accents on the center console, steering wheel and shift knob and Deep Bordeaux colored dash and door panels.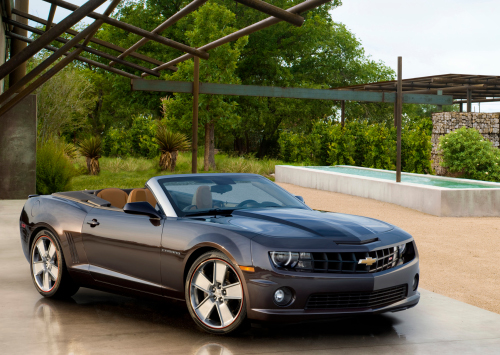 The car also has a 6.2-liter, V-8 engine. The six-speed manual transmission has 426 horsepower and 420 pound-feet of torque while the six-speed automatic has 400 horsepower and 410 pound-feet of torque.
The Neiman Marcus Edition Camaro Convertible also has 21-inch polished aluminum wheels, Pirelli P-Zero ultra-high performance tires, Brembo disc brakes, LED halo-ring headlamps, Bluetooth, rear parking assist and a 245-watt Boston Acoustics sound system.
Unfortunately, you can't park it in the driveway with a big red bow on Christmas morning. Buyers will receive their Camaro in the spring of 2011. Reservations will be accepted starting October 19 by calling 877-662-6276. Interested buyers can also visit www.neimanmarcus.com/christmasbook for more information.
Images courtesy GM.