New Models Mean Deep Discounts on Leftovers
Whenever a new generation of a vehicle is released, the resale value of previous generations goes way down. It makes sense. Everyone wants the newest thing, so if a used car looks just like the new ones, resale values will be high. As soon as a replacement comes along, older body styles will drop in price.
But what happens when the dealer still has all of last year's models? Because Dodge's newest Ram refresh happened to coincide with a downturn in sales, dealers are left with tons of '08 models on the lots while customers are drooling over the brand new '09s. Dealers are using deep discounts to get rid of their leftover models.
This works out very well for consumers who aren't put off by the idea of having last year's model. One South Florida Dodge dealer is selling all '08 Rams at 50% off. This discount puts the lowest priced Rams at about $11,000. That's less than the MSRP of the least expensive Honda Civic sold right now.
The Dodge Ram gets just 15-mpg, compared to the 45-mpg of a $22,000 Toyota Prius. Even with such a large difference in mileage numbers, it would take you about 110,000 miles to make up the difference in their prices with gas savings at $2.50 per gallon.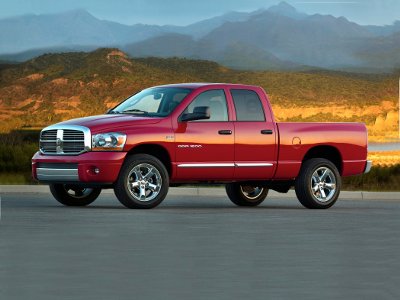 The 2008 Dodge Ram is selling with heavy discounts.