Nissan Announces 350-HP 2014 NISMO 370Z and 200-HP 2014 NISMO Juke
Nissan will officially unveil next year's NISMO models, the 2014 NISMO 370Z and the 2014 NISMO Juke. For the uninformed, NISMO is Nissan's in house tuning company that offers bolt-on performance parts like Toyota's TRD but also tuned versions of the company's cars like BMW's M or Mercedes-Benz's AMG divisions (although on a less extreme scale).
The 2014 NISMO 370Z will have a 350-hp, version of the Z's 3.7-liter V6 engine. That's 18 horsepower more than the standard car, plus an extra six lb-ft of torque to 276. The 2014 NISMO 370Z will also have an upgraded suspension, more powerful brakes, a new exhaust and a body kit that makes the NISMO version 6.2 inches longer than the lower Zs, according to The Truth About Cars. All of this seems to match the 2013 NISMO Z's upgrades, but we will know more when the car's specifications are officially announced (which probably won't be until closer to when the car goes on sale if there are significant upgrades year-over-year, why let everyone know that their $40,000 sports car would be much better if they just waited 6 months to buy it?).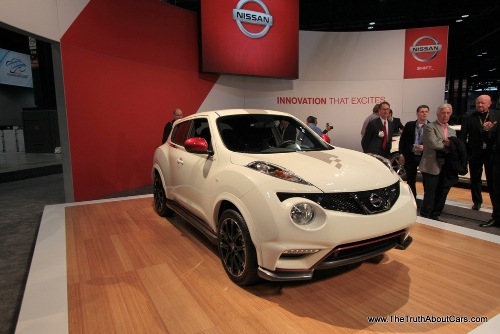 The 2014 NISMO Juke also gets performance upgrades in addition to its visual enhancements. The NISMO Juke gets a bump in horsepower from the stock 188-hp to 197-horsepower, and while a nine horsepower jump isn't monstrous, it should be enough to make the light weight (for an SUV 3,000-lbs is pretty good) Juke seem a bit peppier. The NISMO Juke will also get a really cool looking lip kit and unique wheels.
Images via The Truth About Cars.