Production Ready Porsche 918 Spyder Hybrid Revealed – 770-HP and 78 MPG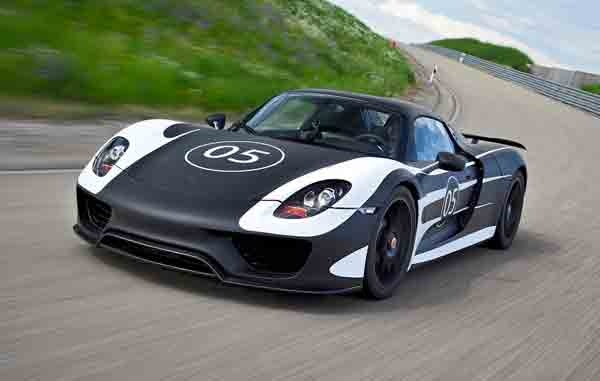 The Porsche 918 Spyder hybrid supercar has been officially revealed. The production version of the gas-electric supercar looks almost identical to the show car that Porsche has been showing off for some time. The Porche 918 Spyder will come with a 4.6-liter V8 combined with two electric motors that will make over 770-hp total and deliver 78.4 mpg.
Even the awesome top-exit exhaust will make it into production 918 Spyder, which should result in some dramatic startups when owners leave the car parked in the rain. There were some changes, most notably a larger cabin for more comfort and an edited rear spoiler (possibly to save some aerodynamic drag for roadgoing cars that don't need race car levels of downforce and give the production car better gas mileage). The Porsche 918 Spyder will have a removable carbon fiber roof.
The 770-hp engine and electric motor (one over each axle) combination in the Porsche 918 Spyder will be mated to a seven-speed PDK dual clutch transmission. Porsche says that the 918 will do 0-60-mph in under three seconds, have a top speed of over 200-mph. The 918 Spyder will also complete a lap of the Nordschleife at the Nurburgring in less than 7:30, which is faster than the better, and more Porsche-, looking Carrera GT.
Source: Left Lane News
Image via Left Lane News.