Scott Brown won the Massachusetts Senate seat Tuesday night, replacing the late Senator Edward M. Kennedy. The Republican from Wrentham, Mass. proudly used his 2005 GMC Canyon truck in his campaign.
"I'm Scott Brown. I'm from Wrentham. I drive a truck. And I'm nobody's senator but yours," Brown said at his victory party in Boston, Reuters and USA Today report.
Brown's GMC truck has 200,000 miles on it and was used in his television campaign ads. He even came to campaign rallies in it wearing jeans and work shirts.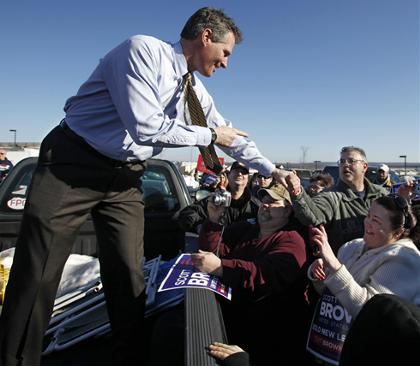 Obama criticized Brown's truck when he campaigned in Massachusetts last weekend for Democrat Martha Coakley. Obama reportedly said they should look under the hood and shouldn't get in Brown's truck without knowing where it's going.
"When he criticized my truck, that's where I draw the line," Brown reportedly said.
According to Kelly Blue Book's used car trade-in value, a 2005 GMC Canyon extended cab with that many miles on it is worth $2,950 in good condition. The private party value is $4,870. Retail value for the truck is $7,395. An auto loan for that amount over four years at 6.38% would cost $185 a month with no down payment.
Image by Steven Senne via the Associated Press and USA Today.