Toyota to Post First Loss in Company History
Since Toyota Motor Corp. began reporting its financial earnings in 1941, it has never posted a loss for a fiscal year. That might change for the year ending in March 2009 though. Toyota has projected that when the current fiscal year ends, the company will have lost about $1.66 billion.
Sales have hit a 26-year low throughout the auto industry, and experts say the market won't recover until late 2009, according to the Associated Press.
This sales slump is coupled with a rise in the relative value in the yen. The current exchange rate is about 90 yen per U.S. dollar, a 13 year low. The high yen value makes it much harder for Japanese companies to make a profit on exported products.
"The change that has hit the world economy is of a critical scale that comes once in a hundred years," Toyota's President Katsuaki Watanabe said. "The tough times are hitting us far faster, wider and deeper than expected. This is an unprecedented crisis requiring urgent action."
Watanabe had planned to attend the North American International Auto Show in Detroit next month, but recently cancelled his appearance,
according to The Detroit News
. Toyota will reveal a new version of the Prius hybrid sedan and a new hybrid Lexus at the Detroit show.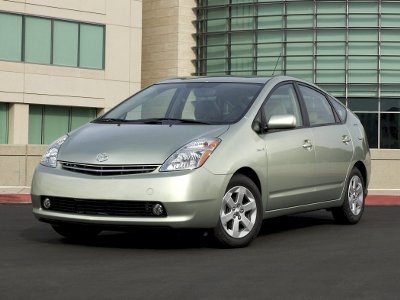 A replacement for the Toyota Prius will be revealed in Detroit next month.