Seven Vehicles That Should See a Big Price Drop This Summer
Car shoppers this summer will no doubt be looking to find a good deal on a new car. And with the numerous 0% auto loan incentives, cash back rebates and discounted lease deals, it's still a great time to buy.
Car research website Edmunds.com used its True Market Value Predicted Price Trends tool to find the top seven vehicles that are expected to drop in price and the seven that are expected to cost more over the summer car shopping season.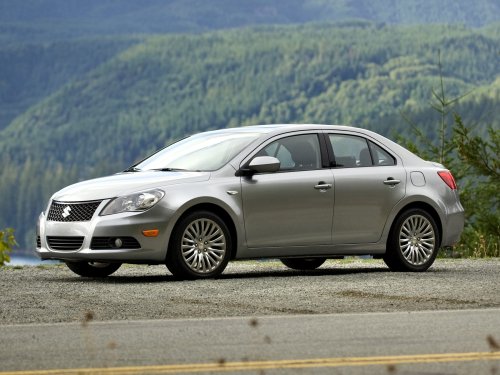 The new Suzuki Kizashi is expected to be heavily discounted this summer car shopping season, according to Edmunds.com.
"During the summer, we typically see great discounting as dealers need to clear their showrooms of old model year vehicles to make room for new inventory," Edmunds.com Senior Analyst Jessica Caldwell said in a statement. "However, the recession forced automakers to limit production, so this year the old model year inventory is much more sparse than usual. As a result, discounts are unlikely to be as dramatic for most vehicles and diminishing supply will actually raise the prices for some."
Vehicles predicted to see a dramatic price reduction over the summer:
2010 Cadillac Escalade Hybrid

2010 Chevrolet Tahoe

2010 Hyundai Sonata

2010 Mazda CX-7

2010 Mercedes-Benz C-Class

2010 Nissan Altima Hybrid

2010 Suzuki Kizashi
Vehicles predicted to be more expensive over the summer:
2011 BMW 5 Series

2010 Dodge Ram 1500

2010 Honda Civic

2010 Lexus GS 450h

2010 MINI Cooper Clubman

2010 Toyota Camry

2010 Volvo S80
"Car shoppers can essentially 'time the market' of their purchase by considering relevant trends such as new vehicle introductions and discontinued brand names," said Edmunds.com Senior Consumer Advice Editor Philip Reed. "For example, the termination of the Mercury brand will lead to continued price drops, while a lot of positive buzz has been generated about the new 2011 Ford Fiesta, so prices are likely to stay high for some time."
If you had your eye on one of the seven vehicles Edmunds.com predicted would go up in price, that doesn't mean you still won't be able to negotiate the price of the vehicle. You should still try and negotiate your best price and realize that you might not get a ton of money off, but can still get a good deal.