VW Beetle to Debut in November, Will Go On Sale Shortly Afterward
Volkswagen will officially reveal the 2013 VW Beetle Convertible at the Los Angeles Auto Show, but has released pictures of the car already. The Beetle Convertible will go on sale shortly after that official Debut, according to Autoweek, just in time for that mid-winter surge in convertible sales.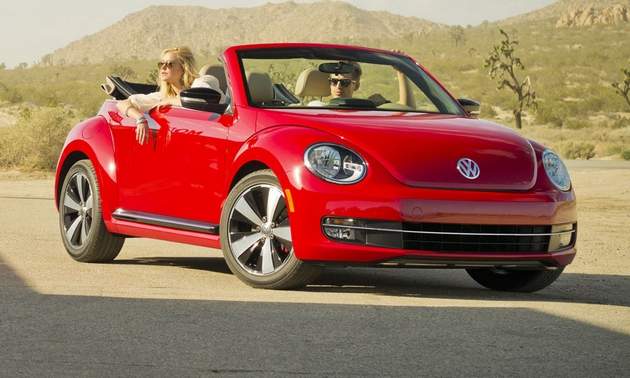 The 2013 VW Beetle will be available with three different engine options. The standard 2.5-liter five-cylinder engine with 170-hp and 177 lb-ft of torque can be ordered with either a five-speed manual transmission or a six-speed automatic. A Beetle convertible TDI comes with a 2.0-liter four cylinder diesel engine with 140-hp and 236 lb-ft of torque. The Beetle TDI can also be bought with the choice of either a stick shift or automatic transmission, both of which are six-speeds. VW says the TDI with the manual transmission will get 41-mpg highway. The 200-hp, 207 lb-ft of torque 2.0-liter turbocharged four-cylinder engine found in the GTI is also available in the Beetle convertible with a six-speed manual or automatic transmission.
The cloth top on the 2013 Beetle convertible will raise and close in approximately 10 seconds. VW has no announced plans for a hard top convertible Beetle, probably because the price would drive that configuration into direct competition with the Eos. The Beetle is better looking than the Eos, but since a hard top 2013 VW Beetle starts at just $19,795, it will be hard to sell a hard top convertible model that would probably come close to double that (I got curious as to whether there were any brands that sell a version of a car with an MSRP double that of another version of the same car, the only one that comes close is BMW with the 328 and the M3 and the 528 and M5, but both M models stop just short of doubling the price of their plebian siblings).
Image via Autoweek.