Weird But True – Arsonist Targets Green Ford Escorts
If you own a 1990s-era green Ford Escort, beware. An arsonist in Medford, Ore. reportedly burned three of these cars in the past few weeks. Medford police Sgt. Mike Budreau described the occurrences as "pretty bizarre."
A 1995 green Ford Escort was destroyed by fire Sunday morning after someone broke a window and poured flammable liquid into it. A similar fire was set in a 1993 green Ford Escort parked in a driveway on Feb. 22,
the AP reports
.
Investigators said that on Feb. 2, a 1992 green Ford Escort was damaged by a plastic container filled with flammable liquid placed next to a tire that burned without setting the car on fire.
"I think this person really doesn't like Ford Escorts," Budreau said.
What did the green Ford Escorts do to you, Mr. or Ms. Arsonist?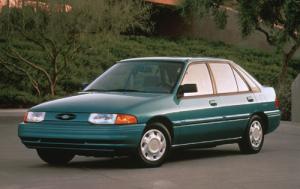 If you own one of these cars and live in Oregon, you should hide it now so the arsonist doesn't get his or her hands on it!
Image via edmunds.com.