AM General MV-1 Wheelchair Accessible Van Now Available At Over 100 Dealers
The MV-1 mobility van built by AM General is now available at over 100 dealers in the U.S. AM General bought the remains of VPG, the MV-1's creator, after the company closed in 2013 and restarted production in April of this year. Now AM General has inked deals with over 100 dealers across the country to sell the MV-1.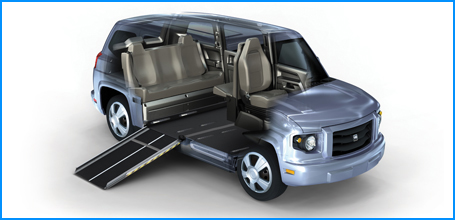 The VPG MV-1 wheelchair van, one of the benefactors of Department of Energy loans following the auto bailout, was designed from the ground up to be handicap accessible and includes handicap-friendly features like a flat floor and larger rear door that converted minivans can't compete with.
Despite building the MV-1 specifically tailored to its niche while competing in price with the less –tailored minivan conversions you're probably more used to seeing on the road, VPG closed in 2013. Now AM General is building the MV-1 and leveraging its larger size (the company builds articulated buses and light military vehicles as well as the Humvee it's best known for) to hopefully keep the MV-1 in production longer than VPG could.
In a bit of dark irony, there are probably disabled veterans who are now buying AM General MV-1s because of injuries sustained in an AM General Humvee (through no fault of AM General's of course, but that's still a depressing vertical market to be in).
Source: MV-1