Bank of America Launches Online Vehicle Purchasing, Car Loan Resource
Bank of America unveiled its Car Buying Center this week, where consumers can go online to shop for a new or used vehicle and secure their auto loan financing all in one place.
Bank of America says consumers can benefit from a low price guarantee on a vehicle when purchased through the site and can take advantage of the online auto loan application process.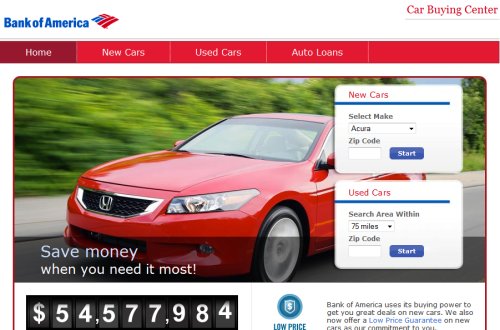 "Bank of America is committed to developing innovative products and services that meet our customer's changing needs," Ellie Clarke, president, Bank of America Dealer Financial Services, said in a statement. "We're listening to our customers and understand they are looking for an easy and convenient way to shop online for a vehicle. At our online Car Buying Center, you can compare prices, see photos and read user reviews, customize your options, get a low price guarantee from certified dealers, and apply for a loan on a new or used car. It's all in one place."
Shoppers can visit the site, bankofamerica.com/carbuyingcenter, to browse inventory of participating dealerships in their area. If you find the vehicle you want, Bank of America says you can lock in a haggle-free price with a certified dealer online.
Bank of America says consumers can save an average of $4,356 off the vehicle's MSRP. Once you find the vehicle and price you want, you then apply for the auto loan online with Bank of America.
Bank of America says it has more than 4,000 certified dealers participating in its Car Buying Center resource. Bank of America's new online research and purchase tool is powered by Zag, a division of TrueCar Inc.