Beyonce's Mercedes-Benz SLR McLaren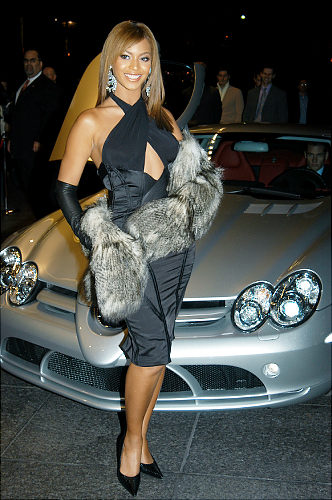 Beyoncé Knowles sure knows how to accesorize her outfits, and a $507,500 Mercedes-Benz SLR McLaren always adds that little extra touch of class and luxury. The singer, songwriter, record producer, actress, dancer, coreographer, model, video director and wife of rapper Jay-Z surely has many cars, but the half-million dollar silver sports car is definitely a stunner.
In 2009, Forbes listed Beyoncé fourth on its list of the 100 Most Powerful and Influential Celebrities in the world, third on its list of the top-grossing musicians and number one on the list of top Best-Paid Celebs Under 30 with more than $87 million in earnings between 2008 and 2009, according to Wikipedia.
With that much money, she should have no problem paying for the McLaren. If Beyoncé took a 48-month auto loan out on it, it would cost her a whopping $10,350 a month! And that's only if she gave the standard 20% down payment ($101,500) and had a 6.5% interest rate on the car loan. Three months of auto loan payments is more than some Americans make in an entire year! I guess if you work hard, you can play hard.
Image by Corkery/News via NYDailyNews.com.