The Editor's Car Shopping Diary: First Weekend Out to Look
I haven't bought a car in six years and over the weekend, I found out that absolutely nothing about buying a car has changed. The car shopping process is still as dreadful as I remember.*
I recently found out that my car is going to cost more than I thought to fix. It just doesn't make sense for me to put more money into the car. It's been an awesome vehicle and it's been good to me for many years. Unfortunately, I think it's ready to be put out to pasture.
Saturday, I thought I'd go to some local dealers and see what's available and test-drive some cars. I had already done research online to see what each brand offered in my price range. I had a few in mind I wanted to look at. I wasn't even thinking about the price, auto loan or lease for the cars. I just wanted to focus on the cars.
I decided to take my best friend Pete with me, since he's also in the market to buy a car soon and loves car shopping. Pete lives in Delray Beach, Fla. so we went looking where he lives. Near and on US 1, there is an array of dealers, covering most brands. So we went down the street, stopping at each dealer.
At the Ford, Chevrolet and Chrysler dealers, we were pretty much ignored. No one even bothered to ask if we needed help or to see if we were in the market to buy a car. We didn't mind though. It allowed us to walk the lot and not be bothered. We didn't like anything they had though.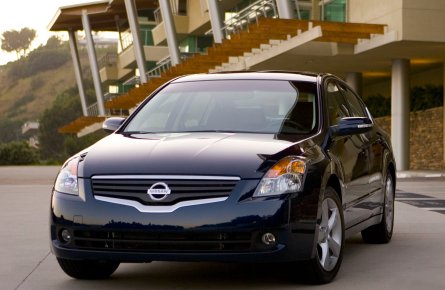 Next, we went to the Maroone Nissan dealership. I wanted to look at the Altima (pictured left) and possibly test-drive one. This place was pretty busy, so we walked the lot by ourselves for a while. When we were ready to test-drive the Altima, we had trouble finding a salesperson to help us.
There were two salesmen sitting in the lobby with their legs up on the arm rest of the chairs. We told them we wanted to drive the Altima and the one guy told us he was retired, even though he was in full uniform! The other guy reluctantly got up and asked us which car we were interested in. He acted like he was going out of his way to let us look at the car. Hello?! Isn't this your job?
At that point, we were really irritated that they were being so disrespectful. I told Pete that clearly, they think we are some young kids with bad credit and no money to spend. We wondered how he would treat us when he found out how old we actually are (we're both 28).
Sure enough, when he looked at my license for the test-drive, he started being super nice to me. You would think that after all these years, car salespeople would learn not to pre-judge customers. They still do it and are pretty blatant about it. Note to car salespeople: pre-judging a customer and making assumptions about them based on their appearance pisses them off!
After the atrocious customer service, I already knew there was no way I was buying a car from this dealership. But I still wanted to test-drive the Altima while I was there. I was surprised how much I liked the car. It drove really well, it was kind of sporty, it was roomy and it had a lot of the features I wanted.
I decided to keep it on my short list. Then we went to Ed Morse Delray Toyota/Scion. They had very little inventory and weren't interested at all in selling us a car. It was okay because all the models they had appealed more to an older demographic. We didn't like anything they had.
Next, we went to Delray Honda. This one was the worst, by far. A young woman approached us while we were walking the lot and asked us what we were interested in. I told her I was considering the Accord coupe (pictured right). Then it started pouring rain, so we went into the showroom to look at the vehicle.
For a small dealership, they sure had a lot of salespeople. There had to have been at least 15 salespeople standing in the showroom, leaning on the cars. She actually had to ask three of them to move off the Accord so we could look at it!
I liked the car and it had a lot of the features I wanted. I was ready to test-drive, but we had to wait until it stopped raining. Here's our favorite pre-judging comment that was made to us all weekend. She then asked me who my co-signer would be! I asked her how old she thought I was. She said she thought I was 19. She assumed we were young and had bad credit. Keep in mind that she was only 22! We just laughed at her comment. We were so shocked that we didn't even know what to say.
Finally, we drove the Accord and it was great, but didn't wow me like I thought it would. Before going to the dealerships, the Accord coupe was actually at the top of my list. I had high expectations, but it was just okay.
We went back into the showroom. They ran some numbers and they were ridiculously high. They wanted $600 just for pin striping and a piece of rubber that goes over the door opening so you don't ding it when you open it and bump something. Again, I knew there was no way that I would buy a car from this dealership, so when the sales manager asked what he could do to get me to buy the car that day, I told him there was nothing he could do and just laughed.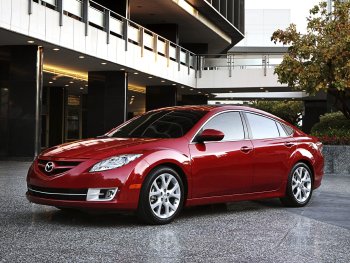 We left and went to our final stop of the day, Delray Mazda. We didn't realize what time it was and didn't know when they closed. They closed at 7 p.m., and it was 6:45. We were already exhausted from shopping all day in the 93 degree heat.
The salesman asked what we were looking for and showed us the Mazda 3 and 6. We drove the Mazda 3 and I was pleasantly surprised at how much I liked it. The only problem was that it was a little small for my taste. But it had a lot of great features.
We then went inside the showroom and sat in the Mazda 6, which I liked much better. This is when we found out that they actually closed a half hour ago. They never rushed us and tried to kick us out because they were closed. We decided to come back the next day to test-drive the 6 (pictured left).
Sunday afternoon, the salesman at Delray Mazda called me and left a message to follow-up and see if we were coming in to test-drive the 6. We finally got there late afternoon. We drove the 6 and I really loved it. This salesman let me drive a 2009 and 2010 model to see which one I liked better. They were similar but the 2010 model had a few different features than the 2009.
I was very honest with them and told them I had no intentions to buy until at least next month. I'm a thorough shopper with anything I buy, and I like to do research and explore all my options. It took me a month just to pick out a TV! I'm sure they would have loved for me to buy that day, since it was the end of the month. But I told them I just wasn't ready and that it was only my first step in the process.
They weren't pushy, which we liked. They ran some numbers for me and gave me a lot to think about. Out of all the dealerships we went to this past weekend, they were the only one that didn't pre-judge us. They also were the only dealership that treated us with respect and treated us like human beings.
It's funny how at the beginning of the weekend, the Honda Accord coupe was at the top of my list, and after visiting all the dealerships and having such a bad experience at Delray Honda, it knocked the car down to the bottom of my short list. Now I'll have to go to another Honda dealership to look at the car again, since the experience with the salespeople there really ruined it for me.
Also, I wasn't really even considering a Mazda and now it's at the top of my short list. For me, the experience of buying the car is just as important as the car itself. All three vehicles, the Nissan Altima, Honda Accord and Mazda 6, are very similar and comparable. I think when I'm ready to buy, it's going to come down to price and the experience with the salesperson and finance manager.
*Liz Opsitnik is the Editor of AutoLoanDaily.com. This is the first in a series of stories following her actual car buying process.
Copyright © 2009 AutoLoanDaily.com. All rights reserved. This material may not be published, rewritten or redistributed without permission.