Shopping For a Specialty Vehicle? It May be Harder Than You Expect to Find What You Need
When Al Escalante needed a specialty van for his family, he had no idea how difficult it would be to find exactly what he was looking for.
Al, an operations coordinator for a major oil field service company in Lafayette, La., has two children. His 19-year-old daughter has cerebral palsy and since she is in a wheelchair, Al needs a full-size van that can accommodate a wheelchair lift.
The last time Al purchased a vehicle was in 2001, when he bought a full-size Chevy conversion van. At that time, Al just went to the local Chevrolet dealer and they had four or five different vans. He was able to pick one out and take it home the same day.
Now that Al needed a new van, things would not go as smooth this time around.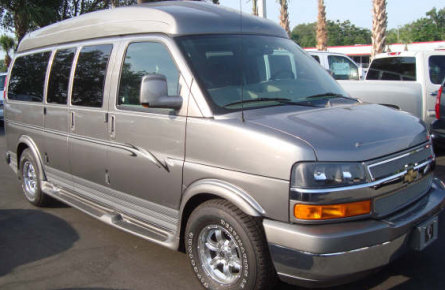 Al Escalante had a hard time finding a full-size van for his family's needs. After finding this silver 2008 Chevrolet Express in Florida, it was shipped to Louisiana.
"The market is so small for full-size vans right now," Al says. "I went to a local car show and nobody had conversion vans. Not only that, when I asked about it, they were really uninterested in helping me. They said, 'No, we don't really do that anymore.' Nobody was really helpful. I hit a brick wall."
After this, Al went online to see if he could find the van he needed. He found a dealer that had exactly what he was looking for, but it was in Ohio.
"Bossier City had one, which is four hours away, but it was a 2009 and they wanted $4,000 to $5,000 more," Al says.
He found another Web site that had the vans so he called the regional contact person listed on the site who said he knew of several dealers who had the van Al was looking for.
"I was able to find one in Daytona Beach, Fla.," Al says. "I didn't go to Daytona Beach though. I did everything through email and phone calls. I was a little uneasy about buying it sight unseen. I wanted to drive it and talk to a salesman in person. They shipped it to me in Louisiana last Saturday. Once I got it, I was fine."
Al purchased a new 2008 Chevrolet Express Explorer van, the same model as his last one.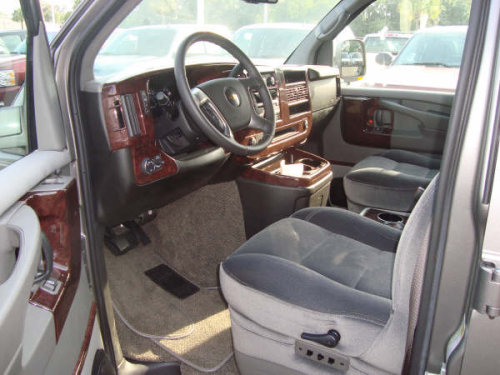 Al needed a full-size van large enough for his entire family, but had to buy it online and out of state since there weren't any in his immediate area.
"I've always liked Chevys. I chose a 2008 model versus the 2009 model because the price was lower and the rebates were good," Al says. "It was more expensive to get a 2009 one and I knew I was going to keep it until the wheels fall off, so it didn't matter to me that it was a 2008 model."
"Since I'm not a huge negotiator, I just told them my price range and we went from there. The MSRP was about $50,000 and I paid $41,000. I even have a GM mobility rebate check for $1,000 still coming in the mail."
Al says he is still waiting on the certificate of origin to be mailed to the DMV in Louisiana.
"They basically FedExed me all the paperwork with sticky notes next to where I had to sign," Al says. "I had to read everything very thoroughly before signing. But once I did, I filled it all out and FedExed it back to them."
"Since I wasn't buying my first vehicle, it wasn't a problem. Not having the paperwork right in front of you at the dealer was weird. Also, I've never bought a vehicle out of state before. After filling out the paperwork, I mailed them a check and they trucked the van over here."
For his auto loan, Al chose GMAC Financial Services.
"This is my third or fourth car loan through them," Al says. "They offered me 0% financing for five years, which was one of the most attractive things about the deal. My credit score is not that great, so they wanted more money down. But I did receive the 0% financing on the van through GMAC."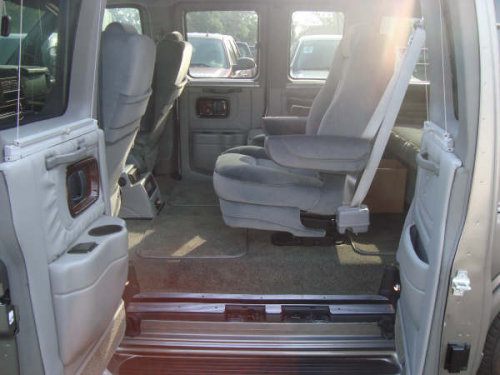 Al's new Chevy Express van will be fitted with a wheelchair lift for his daughter.
Al says he still has to get the lift put in, but it is paid for by a state program and takes about three or four days to install. One of the difficulties in purchasing the van was that Al had a June deadline to have the state help with the lift conversion for the van.
"I was shocked how fast the market for full-size vans had gone down since 2001," Al says. "I had very, very limited choices. Now, everyone wants an SUV. But I need something to fit a wheelchair in. I also need extra room if the whole family is traveling together."
Although buying a van through the Internet was a first for Al, due the lack of inventory locally, he essentially had no choice.
"My online buying experience was okay," Al says. "Since it was such a big purchase, it was a little unsettling. I would do it again though. I definitely would have started earlier if I'd had known it would be so hard to find what I was looking for."

Copyright 2009 AutoLoanDaily.com. All rights reserved. This material may not be published, rewritten or redistributed without permission.