The Editor's Car Shopping Diary: The Big Decision
After ruling out the Honda Accord coupe and Nissan Altima sedan, I decided the Mazda 6 was the perfect car for me. I knew I was going to buy the car from the moment I test-drove it. It had the room I was looking for and the sporty styling I preferred.
After leaving Maroone Nissan in Delray Saturday afternoon, I headed over to Delray Mazda. I purposely went later in the day so I couldn't buy anything. I wanted to wait a few more days and do the deal on a weekday.
The salesperson I was dealing with wasn't there that day, so a different salesperson took me out to test drive it again. I drove the same white 2010 Mazda 6 that I test-drove two weeks earlier. It drove just as comfortably as I remembered.
I pushed practically every button in the car to see how all the features worked. I tested the stereo system, the moon roof, the air conditioning and the lights. I sat in the backseat and I checked out the trunk space. Like I said before, I'm a thorough shopper, so I wanted to make sure I liked everything about the car.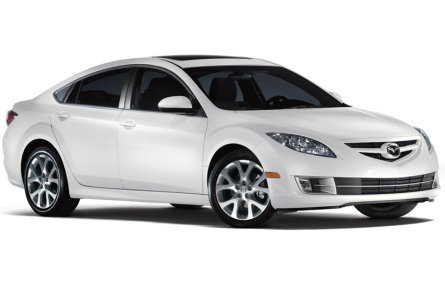 The styling and interior room really sold me on the Mazda 6. It had everything I wanted.
After the test drive, we went back into the showroom to discuss numbers. I still had a few questions about the leasing process, since I've never leased a car before. The same sales manager who answered my questions before sat down with me again and we calculated different payments based on a base model 6 and the 6 with the options I wanted, like the moon roof, spoiler, power driver's seat, MP3 player input, Bluetooth and blind spot monitoring system.
I wanted to make sure I understood every financial aspect of the lease, since I've always bought my cars in the past. Here's what you should ask about if you've never leased a car:
What credit score is required to receive tier one financing or to get approved for the lease?

What yearly mileage allowances are offered?
What is the money factor (the interest) on the lease?

What is the residual value of the vehicle?

How many months can you lease it for?

Are there any lease incentives for the vehicle currently?

Are there any other rebates, incentives, or returning buyer incentives?

Do dealer fees apply and if so, how much do they add to the monthly lease payment?
How much money is due at lease signing?
Is there a security deposit?
Is there a specific maintenance schedule?

Does the vehicle's maintenance have to be performed at the dealership?

How much will it cost if you go over the mileage?

Is there an end-of-lease buyout option?

Is gap insurance included in the lease?
Although the base model was more affordable, I think that if you're going to buy a car, whether it's new or used, you should get the features you want. A car is the second most expensive purchase for most consumers, so why not get something you're 100 percent happy with? I decided to get the Mazda 6 with the options I wanted and the monthly payments were still within my budget.
My advice to car buyers who want to lease is to negotiate the price of the vehicle first, like you were buying it. You should look up the vehicle's dealer invoice price before you go to the dealer, to see what they pay for the car. This gives you a starting point for your negotiations.
Then discuss how many miles you want for your lease. You pay more for more miles, so don't buy too many, but get enough so you don't go over. Then ask them about the money factor (interest rate), which determines your monthly payments.
Then you should decide how many months you want to lease for. Having a longer lease may make your monthly payments lower. But the residual value will change depending on how many months you lease the car for.
Then you'll need to figure out if you want to put any money down or trade a vehicle in to lower your monthly payments. I used my trade-in as my down payment, or the money due at lease signing. This money covers your first payment and the fees. Anything over that will simply lower your payments.
The days of no money down leases are over, so be prepared to have at least $1,000 to a few thousand at lease signing.
One big mistake I made was that I didn't negotiate the dealer fee with them. The dealer fee is pure profit for the dealership. I was tired and simply forgot to negotiate it with them. This is negotiable and you should try to get them to lower it. Don't feel bad for doing so. They are still making a profit from your deal, whether it's a lower negotiated dealer fee or a dealer incentive for selling that car. The manufacturer will pay the dealer to sell certain vehicles that they have a high inventory for.
I used a lease calculator for several weeks before the purchase to plug numbers in and see how much money different cars would cost me to lease every month. You should also remember to add in the fees to the cost of the car, as that will affect your monthly lease payment.
Then it was time to negotiate my trade-in. I already took the car to Carmax, a used car dealership, to get it appraised, and I was very happy with the offer they made me. I told the sales manager that I already had a buyer for my trade, so I'd be putting cash down. I knew that car dealerships really low-ball the value of a trade-in vehicle, so I had already decided to sell it to Carmax this week. This was another reason why I couldn't buy the new car that night.
I allowed the dealer to appraise it anyways and I told them if they could beat my current offer, I'd trade it in to them. They came back with a ridiculously low offer. It wasn't a big deal though because I had a much higher offer from Carmax. I told them what Carmax offered me and after some back and forth, they agreed to match it.
Now that they agreed to take my trade for the dollar amount I wanted, we had a deal. I knew the bank would be closed late on a Saturday night, so I told them I'd come back Monday during the day to give them my trade-in car and finish the paperwork. They said that I could take the Mazda home that night.
I wasn't remotely prepared to do that, since my current car wasn't empty and it was already closing time for them on a Saturday night. But they helped me move the contents of my car into the Mazda. They washed the new car for me, took all the plastic and stickers off and switched my license plate over.
This was all done while I was in the finance manager's office signing my life away. Actually, the paperwork wasn't that bad at all. I filled out a finance application for the lease and I signed paperwork about:
lemon laws

license plate transfer – letting the state know you are transferring your current license plate to your new car

recission agreement – which says the dealer can ask for the car back if you lie on your finance application or if the auto loan or lease is rejected

purchase agreement – which explains which car you are buying, the price of the car and which car you are trading-in

we owe form – which says that the dealer will pay off your current auto loan in 10 days or less

cash back rebate form – which says that the cash back rebate is applied to the purchase price of the car and that you won't actually receive a check in the mail for the rebate
lease agreement (or auto loan agreement) – which has all the information for your financing, like how many lease payments there are, the negotiated price of the vehicle, trade-in amount, down payment amount, license fees, state fees, rebates and incentives, first monthly payment, acquisition fee, dealer fee, disposition fee, residual value, excessive mileage, wear and use fees, taxes and insurance information
After all the paperwork was filled out and done, I finished getting all my stuff out of my car and putting it in the new car. I sadly said goodbye to my trade-in and drove off in my new Mazda 6. Although the leasing process was confusing at first, I finally figured it all out and bought a car that I love. My experience at Delray Mazda was very enjoyable.
If you are in the market to lease a vehicle, don't hesitate to ask questions at the dealer. Also, don't be afraid to negotiate. Leased vehicles' prices are negotiable, just like if you were buying the car. Some fees are also negotiable, so make sure you go over every single fee on the contract before you sign it. Read all your paperwork thoroughly.
With thorough research and some hard negotiating, there are a lot of good lease deals right now. You should be able to find a great deal on a lease in your area.
*Liz Opsitnik is the Editor of AutoLoanDaily.com. This is the third and final story in a series of stories following her actual car buying process.
Image via MazdaUSA.com.
Copyright © 2009 AutoLoanDaily.com. All rights reserved. This material may not be published, rewritten or redistributed without permission.