No Men Required – Women Can Negotiate Alone
Whether people will admit it or not, women and men go through different car buying experiences. Women still have yet to be accepted as educated, informed car buyers. There are definitely dealerships and salespeople who treat women customers with respect and treat them equal to male customers, but there are also some who do not.
Lindsey* went through quite an interesting journey to get her new car. What she experienced is what so many women experience when they walk into a dealership. Although she was being treated like she didn't know what she was doing, Lindsey was able to stand firm and get the deal she wanted on her new car.
Lindsey had a 2003 silver Honda Civic. Although it had low mileage, was in good shape and had a lot of equity in it, it was going to be out of warranty soon, so Lindsey decided to trade it in for a new car. When she bought it, she also purchased an extended warranty that allowed the Civic to be under warranty for five+ years.
"I had purchased it because of its resale value and how it holds value over time," Lindsey says.
Lindsey started the car buying process by doing research online. She narrowed her choices down to a Volkswagen Jetta, Toyota Corolla and Honda Civic. Originally, she was only shopping for a car for herself, but after getting engaged, she started looking for a car for her and her fiancé, since he needed a new car as well. They had planned on sharing a car but decided it wouldn't work, so they thought it would be easier to go through the car buying process all at once for both vehicles.
So Lindsey went online and looked through the manufacturer's Web sites of the three vehicles she was considering. She wanted to see what options she could get on the cars and what colors and trim levels were available. Lindsey spent about a month from start to finish doing her online research on the three cars.
She then went on Kelly Blue Book's Web site to find out what her 2003 Civic's trade-in value was. Since Lindsey had a family member who was in the military, she went through USAA's (United Services Automobile Association) car buying service. They gathered all the information on current rebates and incentives for Lindsey's three picks.
USAA negotiates the pricing on a vehicle beforehand through contract pricing. Then they pass on the discounted price to the USAA member. Lindsey used the service to get pre-approved for her loan as well. They told her what dollar amount and interest rate she was approved for, which allowed her to walk into a dealership and see if they can beat it.
Getting your financing arranged before you go to a dealer is important because it gives you the upper-hand against the sales manager. You already are approved for a good interest rate and you know what dollar amount you can spend. Your goal is then to see if the dealer can beat it and save you money. If not, it's okay because you already have a back-up plan, your pre-approved financing.
Now that Lindsey had all her homework done on the financial end, it was time to go to the dealerships and start test driving and see who could give her the best deal. Lindsey went to a Volkswagen dealership in Delaware, where she test drove the Jetta.
"I didn't like the placement of the arm rest," she says. "Even though it sounds odd, it's important. Also, the Jetta didn't have enough pep. But I went into the sales office anyways to see if they could give me a good deal. I saw a commercial on TV advertising the Jetta for $199 a month, so I wanted to check it out."
Lindsey's fiancé went with her to the Volkswagen dealership but essentially was there only to give his perspective. He wanted to leave the negotiating up to her since she was better at it than he was.
"The salesman was an old-school sales guy," Lindsey says. "In the office, I was asking him questions, and when he responded, he looked directly at my fiancé, not me! My fiancé told him to talk to me and that he wasn't the decision-maker."
"The salesman was very condescending. I think he thought we were too young to buy a car and he was definitely making opinions on our income based on what we were wearing. We were dressed very casual. To let him know I was serious, I told him I would take a car today if I got the right deal."
Lindsey's fiancé left the room to get some water and also to remove himself from the equation so the salesman could focus only on Lindsey. So the salesman worked some numbers, and then talked to the manager.
"He came back with a ridiculous number," Lindsey says. "It was more than $300 a month. I have good credit and money to put down so I knew I was getting ripped-off. He also told me that the commercial I saw for the $199 advertised price was for leasing only and it was for a base model."
"At that point, I had just had enough. I told him, 'I appreciate your time, but I don't think you want to work with us or help us.' Then we left. I was pissed and not a happy camper. Apparently, wanting to buy two cars at once didn't impress them at all. I guess people do it all the time."
After Lindsey got back in town, she and her fiancé went to a different dealership one night after work. They eliminated the Toyota Corolla from their choices after test driving the Civic. She told the salesman she wanted to buy two Honda Civic LX's. Plain and simple.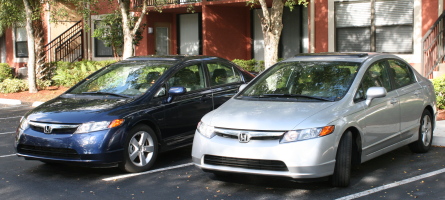 Lindsey stood firm to get a good deal on her and her fiancé's new Civics.
"The salesman said they didn't have any," Lindsay says. "He obviously didn't know what his own inventory was. I think he didn't want to walk to where the cars were. But I told him what I wanted and that I didn't want to play games. I wanted to just cut to the chase."
"They were appraising my 2003 Civic while we were talking to the salesman. They came back with a number that was $3,000 less than what the car was worth. I had two different estimates with me of what my car was worth. One from USAA and one from KBB. They said that KBB isn't accurate."
"I turned a lot meaner at that point. I told the guy to give me my keys back. He said no and that we were still negotiating. I went to leave and he begged us to stay. Then the sales manager came out."
"He was in his mid-30's and he was super-nice and very confident," Lindsey says. "He asked me what my credit score was. I told him my FICO score and told him what monthly payment I wanted for both cars and what I knew the value of my civic was worth."
So the sales manager ran Lindsey's credit and came back with a number that was $10 more a month than what she wanted to pay.
"We ended up dropping down a level in Civic models to get to the target monthly payment," Lindsey says. "But, they didn't have the colors we wanted in the lower level, so they gave us a higher trim level package on both Civics at the lower price. My fiancé got a free wing spoiler and we both got free moon roof visors, door guards and pinstriping."
"So we wanted to take both cars home that night, since we had been there almost six hours. But they couldn't find the keys to the silver Civic so my fiancé took the blue one home and they gave me a Honda Accord loaner car. I got my Civic a few days later."
Lindsey is a natural negotiator and was very confident when she walked in to those dealerships, even though she isn't a car expert. She says that women need to have all the ammunition they can get before they step into a car dealership.
"You need to have all the information you can find on your trade-in and the car you want to buy," Lindsey says. "That way, they can't give you any bullshit. They assume women don't know as much about cars and car buying."
"Bring your printouts with you. Look the salesperson and sales manager directly in the eye. Be confident. It might help if you don't bring a man with you. It might make it less distracting to the salesperson. Although my fiancé was clear he wasn't the decision maker, they still focused on him."
Lindsey was able to get the deal she wanted by doing her homework, remaining firm on what cars she wanted and what she wanted to pay. She also was not afraid to walk out and go to another dealer. Sometimes, this is your best ammunition.
*Name has been changed for privacy reasons.
Copyright 2008 AutoLoanDaily.com. All rights reserved. This material may not be published, rewritten or redistributed without permission.