Buying a New Toyota – Incentives Simply "Too Good to Pass Up"
Despite the massive recalls and government scrutiny, people are buying Toyotas. The automaker's March sales numbers are up and more consumers are considering buying a new Toyota.
"We were very excited when we saw the ads on TV," says Alice Johnson, of Poland, Ohio, a suburb of Youngstown. "How can you turn down a five year, interest-free car loan, free maintenance and loyalty incentives?"
Alice and her husband, Gary, are both current Toyota owners. They've previously owned Honda cars as well and said they've never had problems with any of the cars and have been very happy over the years with the vehicles.
Alice, who currently owns a 2003 Toyota Camry with 62,000 miles, wasn't in the market for a new car at all.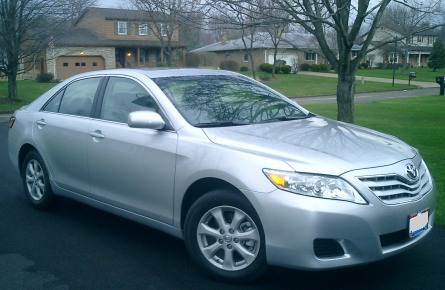 "The incentives were the only reason we went to look at a new Toyota," she says. "We weren't even thinking about buying a car. I knew I'd need a new car in a couple of years anyways, so I decided to get it now."
Since they were both previous Toyota owners, the Johnsons said they had to do very little research before they went to the dealership.
"We went on KBB.com to see what our trade was worth," Alice says. "We also ordered a free credit report to see if there were any errors. We didn't get our score because we knew we had excellent credit and my score was about 775. I also went on Toyota's Web site to look at the different trim levels of the Camry and colors and options available."
We went to Preston Toyota of Boardman on a Thursday after work, Alice says. A salesperson came right out to greet us before we were even out of the car. We looked at Camry colors and options. We knew we wanted a lighter color because of the snow and salt in the winter. We also knew we wanted a moon roof.
"We didn't look at any other models because we knew we wanted the Camry," Alice says. "It's just a really good car for us when we go out with friends and travel. We also liked all the safety features in the new Camry."
"While we were looking at and test driving the cars, the general manager of the dealership came up to us and thanked us for being loyal customers," Alice says, "which we were very impressed with since we hadn't bought anything yet."
Alice says the negotiation process was very easy.
"They printed out a sheet with all the figures on the Camry we wanted, which was a silver LE," she says. "We asked if the price was the best they could give us and our salesman, Jerry, said he could take $200 off. The general manager came back with $1,000 off the price, on top of the $500 loyalty incentive, which was ending that Monday, the 0% auto loan and the free maintenance. They also offered us a couple hundred dollars more than the top KBB price for our trade."
"We told Jerry we had to think about it, so we left and went to dinner. He was very nice and wasn't a high pressure salesman. We called them Friday and told them we wanted the car and would come back Saturday to do the paperwork."
Alice says the negotiating was easy because her friend recently bought a Camry.
"I knew what my friend had paid for her car, so that's what I was going off of," she says.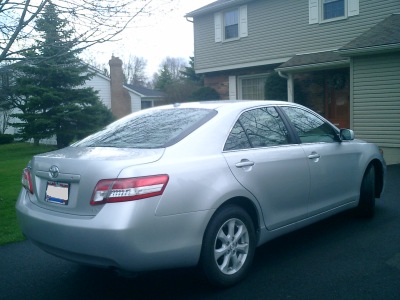 Gary says he knows the dealer has to make money, but at the same time, people want a good deal.
"We understand that they're not going to give the car away," he says. "They weren't going to make any profit off the financing. We got $1,500 off the MSRP, plus the free maintenance for two years. It was a no brainer for us. We went in understanding that they need to make a profit and we got the best deal we could."
Alice says the auto loan paperwork took about five minutes to complete and everything they signed was explained thoroughly. She says overall, the whole experience was great.
"It was excellent," she says. "Our salesman made it a very pleasant experience. There wasn't any drama like years ago when you bought a car."
While Toyota's recalls have some people worried, Alice and Gary say the recalls didn't dissuade them from the brand.
"We had no concerns whatsoever," Alice says. "They had already fixed the gas pedal on the models we looked at. I don't quite believe all the recall stuff because it all sounds a little suspicious. Toyotas have been reliable for years. I have my doubts about the validity of some of the accusations."
"I think a lot of these people are hopping on the lawsuit bandwagon. The economy is bad. They may be desperate and need money, thinking they're going to get a good chunk of change. I'm sure there have been some genuine instances where the cars malfunctioned. I'm hoping it's a perfectly safe car."
Gary agrees, saying Toyota's reputation for safe and reliable cars is still intact.
"All of a sudden there are problems?" he says. "Give me a break. I don't think there are as many problems as they're making it out to be."
Toyota's generous March incentives are luring potential buyers to showrooms. Once they're there, many find that the offers are worth taking advantage of right now, as 0% car loans can save several hundred to a couple thousand dollars over the life of the auto loan.
"The deal was just too good to pass up," Alice says.
Copyright © 2010 AutoLoanDaily.com. All rights reserved. This material may not be published, rewritten or redistributed without permission.
Images © 2010 AutoLoanDaily.com.