Christina Milian's Orange Bentley Convertible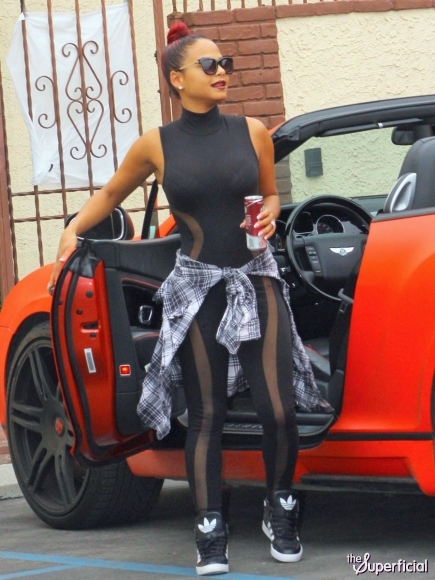 Christina Milian drives a Bentley Continental GTC convertible painted bright orange. The Bentley Continental GTC is hardly an anonymous ride, but painted orange it will definitely turn some heads.
Milian isn't a stranger to attention. The Dancing With The Stars contestant has been signed to a record label since she was 19 years old. Christina Milian is currently signed onto Lil Wayne's Young Money record company along with Drake and Nicki Minaj. Drake also drives a Bentley Continental GTC, but his is white so Christina and he won't run into any awkward sitcom moments when they each walk to the other's car and get in, only to discover their keys don't work and both call Bentley service only to have the tech who shows up point out their mistake and then both slap their foreheads in embarrassment.
Christina Milian may be engaged to Rap-A-Lot Records CEO Jas Prince. TMZ spotted Milian with a ring on her left hand and tried to trick her into revealing the engagement by congratulating her on the engagement, which she coyly refused to speak about on camera. Milian then called Prince her fiancée, giving up the news in the end.
Image via Celebrity Cars Blog.