Cristiano Ronaldo's Audi RS6 Avant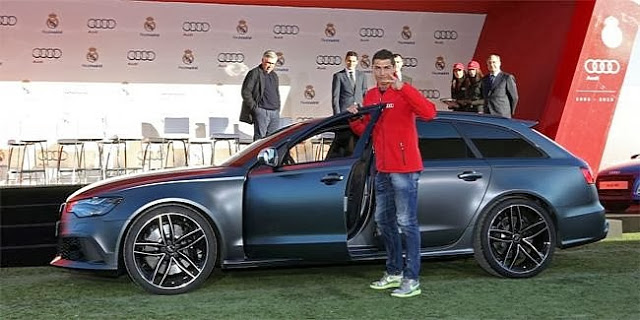 Audi, as the sponsor of Real Madrid, offers every player on the team a free car to drive. Most players opted for the Q7 SUV, according to zero2turbo.com, which isn't surprising since the Q7 is the largest SUV Audi sells. Cristiano Ronaldo could have bought the biggest truck they would give him, but he's got a bit more style than that and opted for the RS6 Avant, which has 13 fewer cubic feet of luggage space than the Q7, but also has more than 550 horsepower.
The Audi RS6 Avant takes the utilitarian Audi A6 Avant wagon and adds a 4.0-liter twin turbo V8 engine with 553-horsepower and 516 lb-ft of torque. The RS6 Avant will do 0-62-mph in 3.9 seconds and has a top speed of 174-mph. Thanks to a stop-start system and cylinder deactivation, the supercar chasing RS6 wagon is rated at 24-mpg.
The 2013 RS6 Avant isn't on sale in the United States, but the 2014 RS 7 is available here and uses the same 4.0-liter turbocharged engine, with seven more horsepower than the RS6, for a total of 560-hp.
Image via Zero2turbo.com.