David Ortiz Sees Red in His Custom Mercedes-Benz SL65 AMG
David Ortiz has a red Mercedes-Benz SL65 AMG that's been customized with a Lorinser body kit and some huge Lowenhart wheels. Lorinser's body kits can cost more than $8,000, so added onto the price of an 08 SL65 AMG, which starts at $187,000, David Ortiz probably spent around $200,000 for the car. That's not a bad price considering it has a 604-horsepower, 740 lb-ft of torque V12 engine.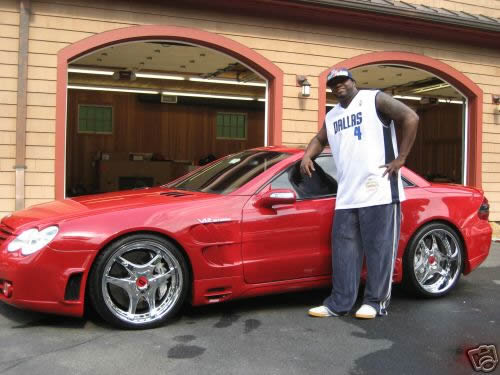 David Ortiz went with three spoke wheels on his SL. While I love the deep dish rear wheels, I can't help but think of the early 90s every time I see three spoke wheels and they make any car seem dated.
David Ortiz went berserk in a game after a bad call, getting himself ejected and then smashing the dugout phone with a baseball bat. Hopefully David didn't take his anger out on his car, though with the fines the MLB hands out it might have been cheaper to smash the Mercedes than the phone.
Image via Celebritycarz.com.