Emma Stone is pretty awesome. In addition to playing a major part in Zombieland, which might be the best funny zombie movie ever, she was in Superbad and Spiderman. That's three great movies. You could spend an entire day watching Emma Stone movies and not see a bad one, pretty good for 23 years old.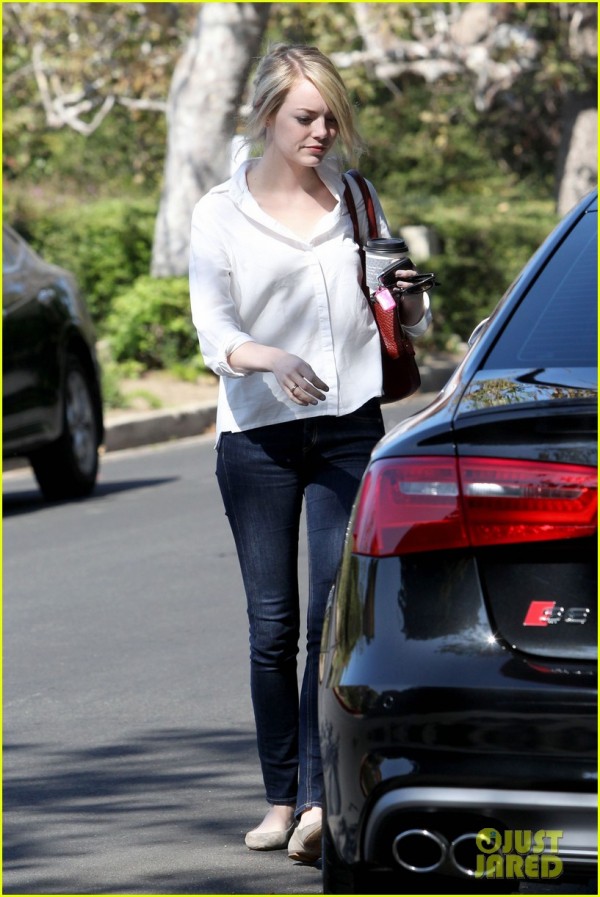 Emma Stone was spotted recently getting into an Audi S6, which is an upgrade from her Mini Cooper but is decidedly less cute. With a 420-horsepower twin-turbocharged V8 engine, the S6 doesn't need to be cute.
There is one fear that creeps into my head after seeing this photos. Emma Stone has followed Lindsay Lohan's career path almost exactly:
Be a ginger. Check
Be a former child star Check
Be insanely hot in your late teens/ early twenties. Check
Dye your hair blonde for some inexplicable reason. UNFORTUNATELY CHECK
Hopefully the parallels end there, but just in case, the movie studios might want to start grooming some more ginger actresses to become their next desirable but approachable looking star.
Emma Stone was also the subject of one of the greatest crush-confession videos of all time in which Jim Carrey praised her effusively and of course got called creepy for it. Nobody has any respect for guys falling in love with girls 27 years younger than them.
Image via Celebrity Cars Blog.