Fast and Furious 2 Movie Car For Sale – Own Paul Walker's 2 Fast 2 Furious Mitsubishi Evo
The car that Paul Walker drove in 2 Fast 2 Furious, the second Fast and Furious movie, is for sale. The 2001 Mitsubishi Lancer Evolution is claimed to be one of four built for the movie and the seller claims it was used for close up shots.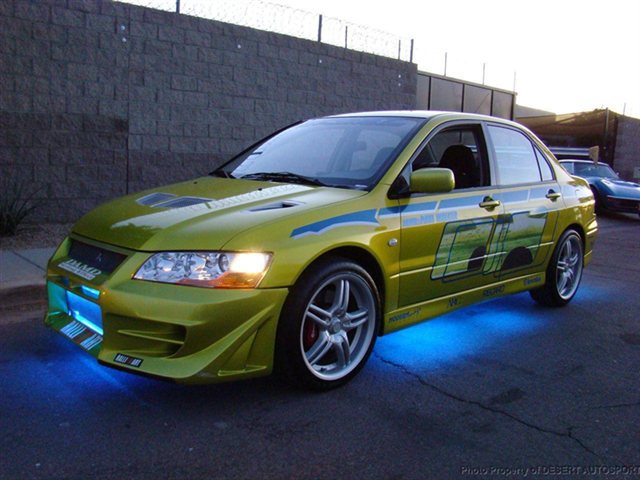 Interestingly, the seller claims that the Fast and Furious Evo is legal to be registered in the United States, even though the Evolution wasn't sold in the U.S. until 2003. So if you're willing to put miles on a ten year old car that has less 900, you're able to do so, and I will applaud you for it.
With a $40,000 starting bid, the car would be a steal. It's a Japanese import of a car not sold in the U.S. and was used only for close ups in a popular movie. Unfortunately, there are 11 days left on the Ebay auction, so if you only have $40,000 to spend, you'll probably be outbid and have to look elsewhere for your investment car. The car was appraised at $80,000, so expect the final bid to be somewhere in that vicinity.
There's just one problem, what year is the car? The auction states the car is a 2001, the certificate of authenticity states that it is a 2003 and the book detailing the build says it's a 2002. If the car were a 2003, it would be an Evo VIII, the first model sold in America. Furthermore, the movie was released in June 2003, which would leave very little time between when the 2003 models first went on sale and when the movie hit theaters. II also ran the vin number on the certificate of authenticity through a couple online vin checkers and while they were unable to pull up complete vehicle information because of an invalid check digit, they did say that the car is a 2001.
Given that, it seems unlikely that the car is a 2003, which lends credence to the seller's claim that it is a 2001 model, but then why does the certificate of authenticity have the wrong year?
It's certainly possible that different years of Evo were used in the filming, but that would only explain the book not matching the car and not the certificate of authenticity's claim that the car is a 2003. I've sent an email to the seller asking about the discrepancy and will update as soon as I hear from them.
Image via Ebay.