Ford Earns $2.1 Billion Profit in First Quarter
Ford reported today it has earned a $2.1 billion profit during the first quarter of this year. This is Ford's highest quarterly operating profit in six years, The Detroit News reports, and its fourth quarterly profit in a row. The automaker also said it will be "solidly profitable" a year ahead of schedule.
"The Ford team around the world achieved another very solid quarter, and we are delivering profitable growth," said Ford President and CEO Alan Mulally in a statement. "Our plan is working, and the basic engine that drives our business results – products, market share, revenue and cost structure – is performing stronger each quarter, even as the economy and vehicle demand remain relatively soft."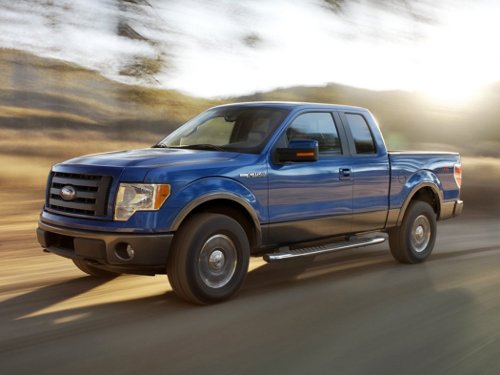 Ford also announced it will boost production to meet the increased demand for its vehicles. Ford said the days of downsizing are done, The Detroit News reports.
"We remain cautiously optimistic about positive signs emerging in the global economy, while knowing that the recovery is fragile and the global auto industry continues to deal with excess capacity," Mulally said in a statement. "For us, the most important thing we can do is to stay focused and continue to make progress on our plan."
When comparing these figures to the first quarter of 2009, Ford lost more than $1.4 billion. Ford said the profit this year is due to improved vehicle sales, continued streamlining of its global automotive operations and profit from its lending arm, Ford Credit.
Ford Motor Credit reported net income of $528 million in the first quarter of 2010, an improvement of $541 million from a net loss of $13 million a year earlier. On a pre-tax basis, Ford Credit earned $828 million in the first quarter, compared with a loss of $36 million in the previous year.
Ford Credit said the increase in pre-tax earnings is due to lower depreciation expense for leased vehicles due to higher auction values and a lower provision for credit losses, offset partially by lower volume.
"Ford Credit had strong first quarter results, in part due to improvements in the used vehicle auction markets," said Mike Bannister, chairman and CEO, in a statement. "Economic conditions are still uncertain and, as always, we will utilize the solid business practices and superior servicing that remain the foundations of our company."
Ford was the only automaker of the Big Three not to take any government financial aid or file bankruptcy. Ford also gained customers recently when Toyota was in the middle of a massive safety recall and image crisis.
Ford has been offering generous incentives to buyers recently, including 0 percent auto loans for up to 72 months and cash back rebates on several of its vehicles. Ford's April sales figures will be announced next week, along with its May incentives.