Is Halle Berry's Lexus RX450h Too Small for Two Kids?
Halle Berry is pregnant with her second child. Will a second baby mean that Halle has to cash in her Lexus RX450h for a bigger car? Halle Berry has had the Lexus SUV for a while, but that was with just one child. The eco-friendly SUV could be too small for all the stuff that comes with two kids.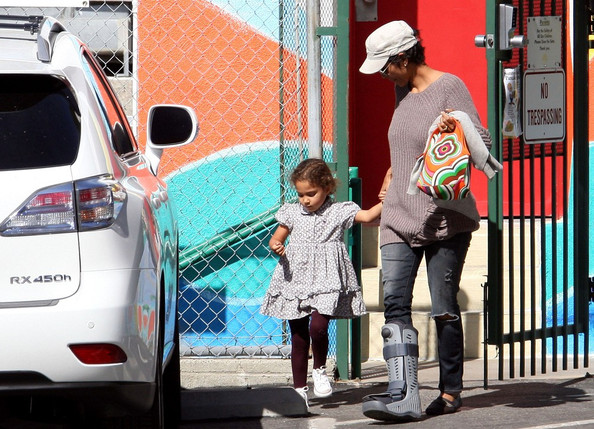 Fun fact: Halle Berry's daughter is named Nahla. Wikipedia claims that Nahla means honeybee in Arabic. That may be true, but it's much more fun to believe that Halle Berry named her daughter Nahla because she wanted her to have a very similar name to Nala from the Lion King. Nahla will have a leg up on every other girl when it comes to her love life because let's be honest, everyone who watches the Lion King imagines that they are Simba and falls in love with Nala.
The Lexus RX450h gets 32-mpg city and 28-mpg highway, which is really impressive for an SUV of that size. The only problem is that it doesn't have the room for a third row of seating, so with two kids she might need a bit more space. There is a Cadillac Escalade Hybrid available, but the massive Cadillac only gets 20-mpg city and 23-mpg highway. What do you think Halle Berry should get to haul her family around in? Will the RX450h do or does she need to upsize?
Image via Carcelebrity.org.