Katy Perry's smart fortwo
Katy Perry took a page out of Paris Hilton's book and painted her smart car to look like something out of Barbie's garage. Unlike most celebrities, who invest in dark tint and try to avoid being spotted by the paparazzi, it looks like Katy Perry wants to be absolutely sure you know who's driving the pink smart car, so her name is painted on the side.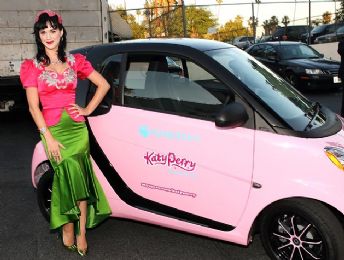 Hey, who's car is that?
If Katy Perry bought her smart fortwo with the comfort package and power steering, the total MSRP would be $15,290. A 48-month car loan for that much with a 20% down payment and a 6.5% APR would cost just $290 a month.
Image Via CelebrityCarZ.