Michael Jackson's Motorcade Takes Star to Memorial in High Style
In a normal funeral procession, you'll see the family of the deceased traveling in Lincolns or Cadillacs to the funeral home. But when you're a mega-celebrity, only the nicest, most expensive will do. Tuesday morning's private funeral for Michael Jackson had a motorcade consisting of only the finest vehicles to take the King of Pop to a public memorial service at the Staples Center in Los Angleles.
Besides about a dozen California Highway Patrol motorcycles and the hearse, Michael Jackson's motorcade of more than 30 vehicles included Rolls Royce limousines, Cadillac Escalades, Range Rovers and two small shuttle buses. Jackson's gold-plated casket traveled in a normal hearse.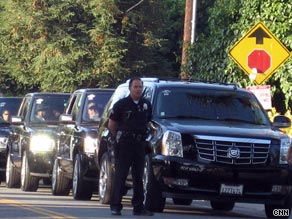 Image above via CNN. Image below via E! News.