Michael Schumacher Transfers Hospitals, Able to Communicate With Family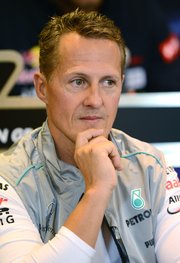 Former Formula One champion Michael Schumacher is no longer in a coma and has moved to a hospital closer to home. Schumacher, who was in a coma following a skiing accident on December 29, 2013, is now able to communicate with his wife and children.
Michael Schumacher's family has been sparse with details about the former F1 star's condition, preferring to keep his treatment private, but they did say that he is no longer in a coma and ale to communicate with his family. Schumacher's wife did say that she was "sure" that the outpouring of support from fans and well wishers helped Michael in his recovery.
According to the New York Times, Schumacher will be moving to a hospital 20 miles from his home to allow his wife and children, who were commuting 100 miles each way by car or helicopter, to visit more easily.
Image via New York Times.