Biggest, Most Expensive Luxury Cars See Sales Boost
You'd think that few consumers would be buying luxury cars after the recession we just endured, especially with the uncertainty in the economy still lingering. But instead of small, entry-level luxury cars being sold more often, the most expensive and largest luxury cars are the ones with the big sales increases, The Wall Street Journal reports.
Buyers mostly in China and the U.S. are snapping these mega-sedans up. This is good news for luxury automakers, who earn more profit on their most expensive vehicles compared to smaller, entry-level models.
Sales of BMW 7 Series sedans (pictured below) are up 44 percent compared to a year ago worldwide, according to The Wall Street Journal. The starting MSRP for the 7 Series sedan ranges from $70,150 to $137,000.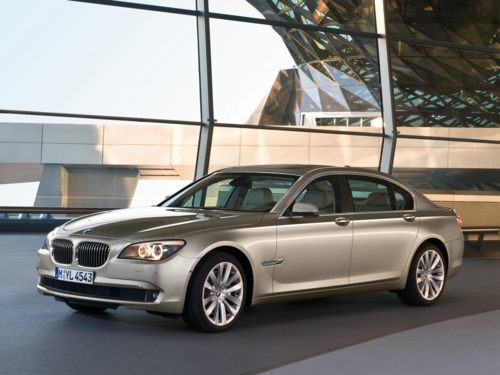 Mercedes-Benz S-class cars have seen sales rise 22 percent. The S-class starts at $87,950 and goes up to $201,150. Even the $48,050 Mercedes-Benz midsized E-class sedan experienced a sales increase of 78 percent through August. Audi's A8 sedan and the Lexus LS are up 34 percent worldwide.
Most people who can afford cars like this don't care if the automaker is offering a low auto loan rate or an attractive lease deal. But the luxury carmakers are definitely trying to entice buyers, with 0 percent financing, no money due at signing lease incentives and low car loan rates even on certified pre-owned models.
If you're in the market for a big, expensive luxury sedan, keep in mind that with any vehicle, it may be harder to negotiate a discounted price if they're flying off dealer lots. Shoppers who are interested in entry-level, smaller luxury cars should be able to score a great deal, especially on leftover 2010 models right now. With all the auto loan and lease incentives, luxury shoppers have plenty of options to choose from.