Motor Trend Names Truck of the Year
Motor Trend Magazine announced the winner of its 2011 Truck of the Year Award Saturday during the Army/Navy football game in Philadelphia, Pa. The 2011 Chevrolet Silverado 2500/3500HD was named the winner in a live announcement during the football game. The truck was praised by the magazine for its functionality, safety and value.
"It's what's under the skin that makes this truck a winner," said Angus MacKenzie, Motor Trend's editor-in-chief. "Chevy engineers focused on three key areas – powertrain, frame and suspension – to deliver a truck with significantly improved capability and more refinement."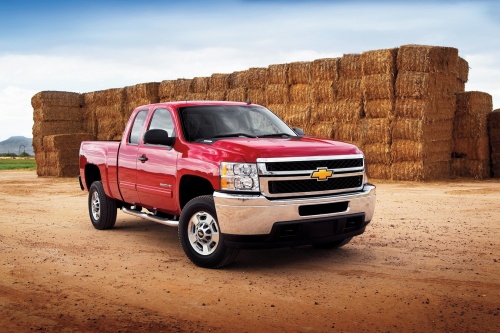 The 2011 Chevrolet Silverado HD was chosen by the editorial staff of Motor Trend Magazine during a week-long process of performance tests, both with and without payload, on straight-aways and twisty mountain roads, as well as in day-to-day driving. The magazine looked at advancement in design, engineering excellence, efficiency, safety, value and performance of intended function.
Motor Trend said its editors were impressed with the truck's power and redesigned suspension.
"Best possible towing and payload capacity in the 2500 heavy-duty line, the least expensive way you can get a diesel, incredibly quick to 60 mph, potentially excellent fuel economy – the street truck still lives, just in a different form than before."
The 2011 Silverado 2500/3500HD can be purchased with 0 percent auto loan financing for up to 60 months in December. It also has $2,000 in cash allowances for cash buyers.
Photo and video via BusinessWire.